Neverwhere, Menghidupkan Dance Music di Tengah Realita Yang Baru Bersama Zodiac, Studiorama, dan Sounds From The Corner
Melalui sebuah festival berdurasi 10 jam, Neverwhere sajikan pengalaman kehidupan malam yang immersive di ruang digital.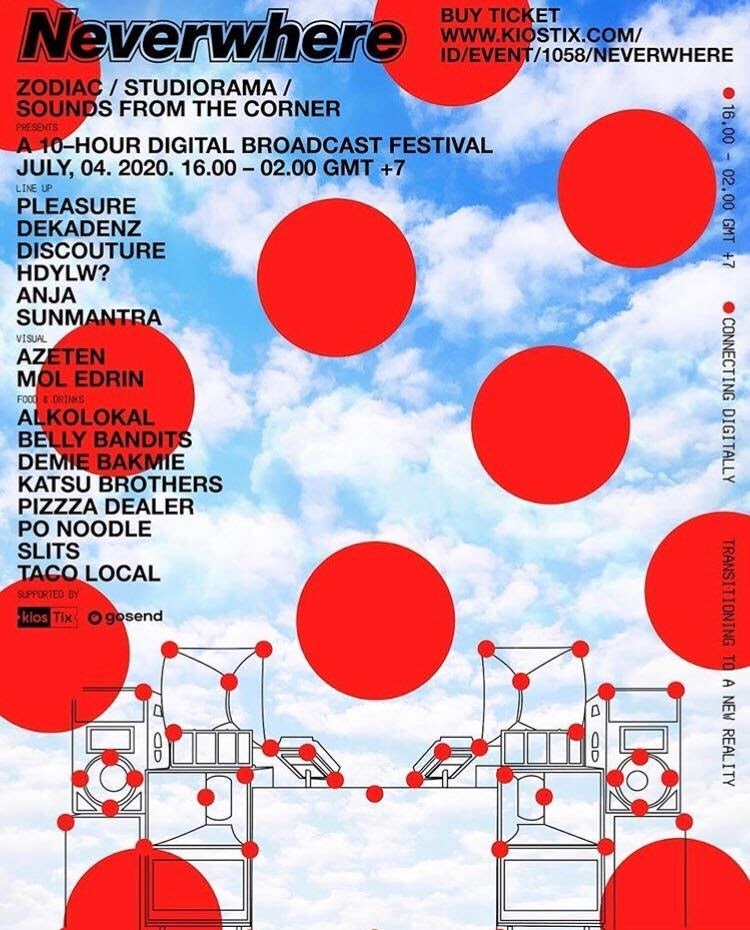 Teks: Annisa Nadia Harsa
Foto: Zodiac
Dengan adanya keterbatasan untuk kembali menjalankan aktivitas di luar rumah, penerapan kultur kelaziman yang baru pun dilihat menjadi alternatif yang populer. Tak hanya sistem WFH (work from home) sebagai bentuk adaptasi kehidupan kerja, tetapi juga kehidupan sosial dan hiburan, seperti perhelatan acara musik digital Neverwhere yang diselenggarakan oleh Zodiac, Studiorama, dan Sounds From The Corner pada 4 Juli mendatang. 
Neverwhere merupakan solusi dari Zodiac, Studiorama, dan Sounds From The Corner untuk tetap dapat menghidupkan iklim dance music di Jakarta meskipun tak lagi dapat meramaikan suatu venue secara fisik karena pentingnya menjaga jarak. Dengan menggelar festival musik berdurasi 10 jam, Neverwhere merupakan sebuah solusi sekaligus perwujudan transisi untuk menyambut normal yang baru ini. Dengan penampilan dari enam kolektif musik, yaitu Anja, Dekadenz, Discouture, HDYLW?, dan Sunmantra yang juga dilengkapi oleh dua seniman visual Azeten dan Mol Edrin, Neverwhere ingin menerjemahkan keseruan pengalaman hiburan malam ke ruang digital.
Guna meningkatkan pengalaman yang menyeluruh, Neverwhere juga disertai oleh paket bundling yang bekerja sama dengan delapan usaha F&B di Jakarta, seperti Alkolokal, Belly Bandits, Demie Bakmie, Katsu Brothers, Pizza Dealer, Po Noodle, Slits, dan Taco Local. Bagi yang berminat, Neverwhere sediakan tiga jenis tiket, reguler untuk tautan streaming, paket F&B, serta paket merchandise.
Bagi yang berminat, tiket Neverwhere dijual secara eksklusif melalui Kiostix. Simak pilihan tiket dan paket yang ditawarkan melalui tautan berikut.