The Feelings of Youth and Nostalgia with Belle and Sebastian
We had the chance to talk with Chris Geddes and Richard Colburn of Belle and Sebastian about their latest album "A Bit of Previous" and nostalgia as a powerful emotion.
Words by Ghina Sabrina
Photo: Hollie Fernando
We have our own ways to read meaning into the music we listen to. From its melodies to lyrics, we often associate the music we listen to with the emotional environment we hear it in. It isn't rare that a certain type of music evokes familiar feelings when listening to it, and what other band writes about feelings and presents it better than Belle and Sebastian?
The Scottish indie-pop band have had a lot to write about. Established in 1996, they have tapped into a lot of feelings in their songs, from nostalgia, loneliness, and warmth to optimism, and landed in the embrace of many fans from around the world. Almost a decade since their last album, they have finally returned with "A Bit of Previous". I had the chance to speak with Chris Geddes (keyboards) and Richard Colburn (drums) to talk about Glasgow and how different the recording process was, the sound of nostalgia, and their latest social campaign.
"A Bit of Previous" is your first album in seven years – seeing that a lot can change in several years, how is the recording process different from your previous discography?
Chris Geddes: With this one, just because of the circumstances of the pandemic, it was different in the sense that the recording didn't involve the whole band being in the studio together as much as normal. We stayed in Glasgow to do the recording and obviously people are older and they've got families now. During the lockdown here, the people with school-age children were home looking after their children. And so, the way the work went in the studio, it was more a case of people being there when they had to be there rather than the whole band being in the studio all the time. We were being cautious about not hanging around in the same room unnecessarily, which was different to normal because normally you play a song in the studio and then everyone kind of gathers in the control room to listen to the playback and talk about how we're going to proceed with it – which we didn't do so much this time. So it was a bit different that way.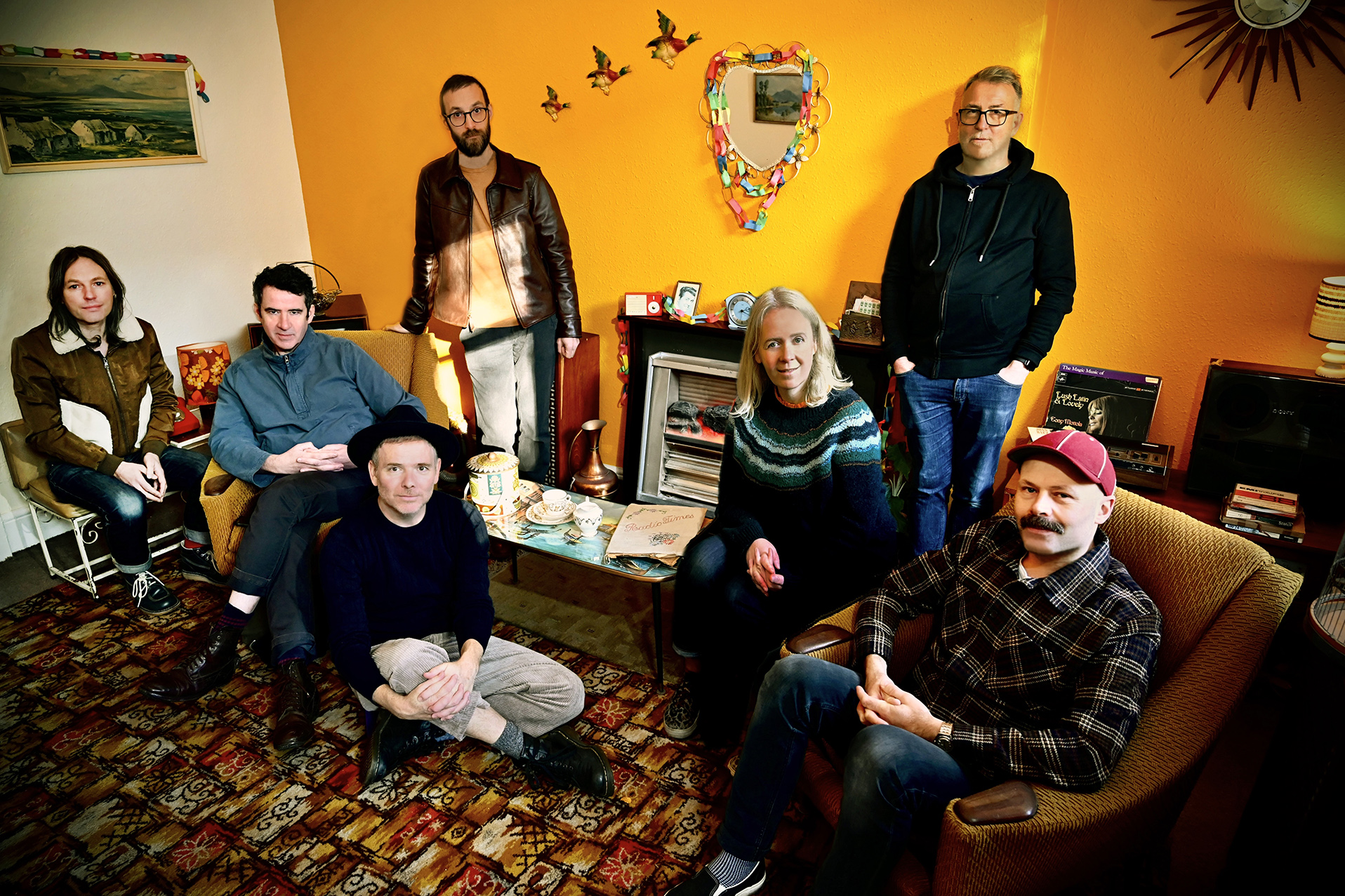 With the album recorded in Glasgow, which would be the first time you've made an album at home since 2000, how has the change of scenery set a different tone in the record?
Richard Colburn: We have recorded other stuff in Glasgow since then, but it's the first sort of full, proper album that we've done. After "Dear Catastrophe Waitress", I think it was the first time we kind of went somewhere else with our producer to record an album. And afterwards, that's just kind of what we've done, more or less, for every major release. But we did do things, smaller things, like a soundtrack. We did a soundtrack album, some EPs and different things in Glasgow. But as far as a major album, a major release, that's the first one since then.
The pandemic has dictated a lot of how we've recorded it.
The pandemic has dictated a lot of how we've recorded it. I suppose, when we're in other studios and other cities, it's very concentrated, and as Chris said, we'd be there all the time on every part of the process. And you're looking at the clock as well because normally you may only be there for a month, a few weeks or however long – so you really have to do a lot of work in a short period of time. Where with this, we had a lot of time because there were no time constraints that you usually have when you're doing an album project in a studio with a producer. It's kind of funny because that took the pressure off a bit and as much as you could record differently and have a different mentality about what you're doing and not feel like, 'Oh, the red light's on, so this must be perfect.' If you have to do it again, you do it again. You come back another day to do it. That's what you do because time just seems to go on.
CG: It felt like the recording situation was probably more relaxed than when we've gone away to do things. It definitely is a different record from the one that we would have made if we'd gone away to record in March 2020. Because in 2020, before we got back to work in the studio but while we were still at home, Stuart wrote a lot of new songs. So a lot of his songs on the record weren't written before we would have gone away to record the album if we had done it at the start of 2020. So it would have been very different if we had recorded it then.
So it's kind of a blessing in disguise, having to stay in one place for a long time.
RC: Yeah, I do think to myself, what would have happened if we had gone to Los Angeles? From the shape of the album, the sound of the album and the songs that were on it, how different would it be from what actually came out?
"Young and Stupid" started off lively and screams of the 'good times' – then it ended with a nihilistic tone. What are you trying to suggest with the change of tone?
CG: It's funny. I don't think of the voiceover thing as nihilistic so much as saying not to get bothered by stuff. The person who did it was a young woman who was working as an au pair for Stuart and Marisa's family, helping look after the kids. And I think the reason he asked her to sort of talk about her feelings in the present time, I think, was because he just wanted a voice from someone who was young on the song. Rather than the whole song being from the perspective of an older person looking back on younger days, he wanted the voice of someone still in their younger days to be there.
It's funny because my family heard the song for the first time the other day and it just so happened that my niece and nephew were staying at my mom and dad's when they all listened to the song together. They really liked it, but my nephew, who's only six years old, kept saying to my dad, "But why is it young and stupid? Why is it? What do they mean by young and stupid?" He was really offended by the idea that he might be less intelligent because he's younger.
A lot of Belle and Sebastian's songs do share a similar silver lining, where it transports us to feeling nostalgic about life. Can you elaborate more on this type of feeling you're portraying in your music?
RC: It's kind of funny because a lot of the songs that Stuart writes are very character-based, kind of along the lines alluded to and from different perspectives of age and whatnot. But yeah, I don't know. We get that quite a lot. I don't know what it is that makes people get nostalgic. I can never put my finger on it, whether it's the content or the song lyrically, I'm not sure. It's kind of funny because I think about it every so often and then I kind of get back to what I'm doing.
I don't know what it is that makes people get nostalgic. I can never put my finger on it.
CG: I guess it's a powerful emotion, isn't it? And when the writers put that kind of stuff in the songs, I guess not even necessarily doing it consciously, but you know it's quite a universal feeling. I feel like it's something that's kind of been in the songs right from the very earliest. I mean, on "Tigermilk" and "If You're Feeling Sinister" in the early singles, there were so many songs harking back to being written from the perspective of someone in their twenties, looking back to being at school and so much so to the point that I think Stevie told Stuart to stop writing songs.
And then I guess the musical aspects can trigger that as well. Even though the band's production style has changed over the years and we've added more electronic elements and being drawn on elements from dance music production, we still all love vintage soul music and sixties pop music as well. That's always going to be in the DNA of the band because that's the music that we got together playing and it's always going to come out. I suppose now the production style of what's generally contemporary pop has changed so much that just by sort of naturally using those sounds, your music is always going to feel a bit nostalgic as well, even though we don't emulate vintage soul music as strictly as some of the bands who that's just like the thing they do and do it really well. But I mean, we still have that kind of sound.
"If They're Shooting At You" is a song about being lost, broken and under threat of violence – which seems fitting to the crises currently happening around the world. Was this track written with that in mind and could you tell us about the music video that is also part of a fundraising campaign?
RC: No, it wasn't written specifically for the way it was used. I think it was Marisa Privitera, Stuart's wife, who had maybe come up with the idea of doing something tied in with some sort of campaign for the Red Cross or Ukraine. But as a song itself, it wasn't written with that in mind, as far as I can tell. It's incredible how the lyrics tie in with the sentiment of what's going on.
CG: The song was written before the current escalation and the Russian invasion. It was just the timing, we were starting to promote the album around the time that those events took off. And I think there was just the feeling that talking about our own music is quite a trivial thing in these circumstances. And as Richard said, Stuart's wife, Marissa, who's a photographer herself, had contact with some photographers in Ukraine who were kind of documenting the situation. And when we saw the marriage of their images and the song, it seemed very powerful.