Things We Like: Song to Start the Year
Kumpulan lagu pilihan untuk memulai tahun 2021.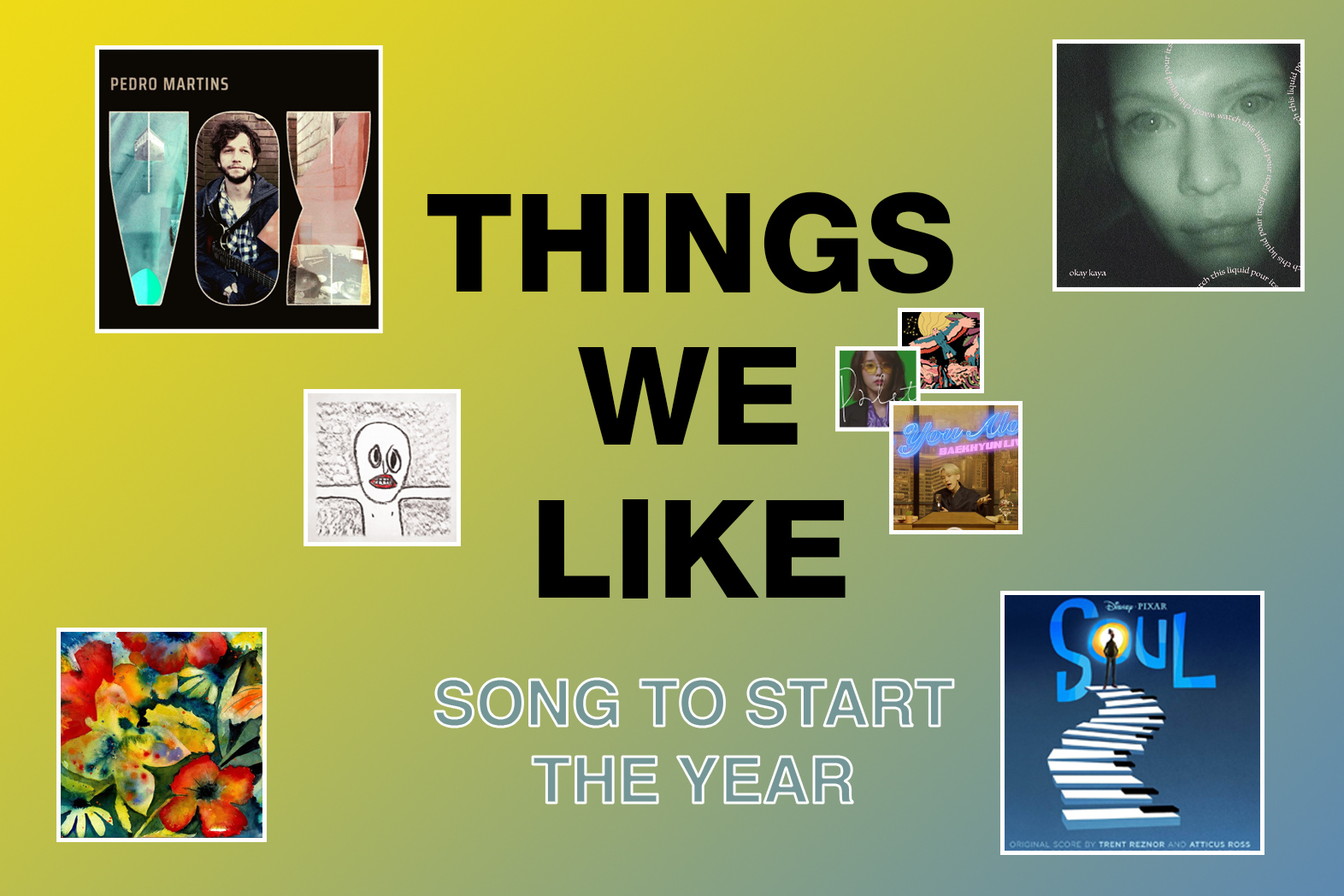 Mengawali tahun baru lewat alunan nada favorit bisa jadi salah satu hal tepat untuk mengekspresikan suasana hati yang penuh harapan. Pada serial "Things We Like" kali ini, kami mengumpulkan lagu-lagu pilihan dari tim Whiteboard Journal untuk memulai tahun 2021. Berikut beragam preferensi lagu dari kami untuk menemani hari-hari di awal pekan tahun ini.
KEN JENIE
Editor
What:
Pedro Martins – Venus 13
Description:
My year usually begins with a simple goal/plan that I am determined to follow. As it progresses, moments of uncertainty, relief, hope, conviction, distraction (you know… regular life events type things) –  color my year. Whether or not that goal is achieved is a different matter, but throughout that journey I try not to lose sight of what I set out to do. What I am trying to say is that my year is kind of like this beautiful song off guitarist Pedro Martins 2020 album, VOX. 
M.HILMI
Managing Editor
What:
Adrianne Lenker – Anything
Description:
Apapun yang akan terjadi di 2021, kita punya lagu ini. Lagu yang membuat yang indah semakin terasa indah, yang sedih terasa sedikit lebih bearable. 
FEBRINA ANINDITA
Editorial Staff
What: 
Baekhyun – Get You Alone
Description:
Baekhyun keluarin lagu dari album Jepangnya nih. Enak banget bikin semangat dan vokalnya bikin langsung sayang.
Nyesel deh kemarin ga nonton konser Beyond Live dia 🙁
Kalau kepincut Baekhyun, jangan lupa lanjut dengar lagu ini ya xixixi: Candy, Love Again, UN Village. 
Duh kapan kelar COVID sih? PENGEN KARAOKE
GHINA HANA SABRINA
Editorial Staff
What: 
Mother Nature's Bitch
Description:
This song might be released back in the beginning of last year, but I think it seems so much fitting for it to be the ~ anthem ~ of early 2021. It's an ode to nature and how we're supposed to accept everything that comes with it. And learning from the shitshow that is 2020, we truly are a Mother Nature's Bitch.
EMMA PRIMASTIWI
Editorial Staff
What:

Solange – Binz
Description:
So Good. 2 years on and still very much a voibe.  
Attitude gue tahun ini: halu aja biar nggak pusing
VANIA ALMIRA
Editorial Staff
What:
Khruangbin – Dearest Alfred
Description:
Lagu yang ada di album rilisan Khruangbin pertengahan tahun lalu ini jadi lagu pertama yang gue dengerin di tanggal 1 Januari kemarin. Sepertinya gue masih ingin menikmati awal tahun 2021 dengan slow living, dan alunan musik yang soothing gini kayaknya pas banget buat gue yang belum berharap banyak sama tahun baru ini. 
CLARISSA AMABEL
Art Director
What:
IU – Palette
Description:
(Thanks Jan for sending me the Song for Owning My Okayness!) 
Guys, turn on the closed captions for this one? So yes, 2020 taught me a lot of things, but most of all it taught me about feeling content. 
That's the vibe I'm bringing into the new year: "i think i'm alright, i'm making peace with my own personality, some things that used to be important to be now no longer are, and there are things that i like and no one else cares about." In the words of wise Ji Eun, "I got this, I'm truly fine."
Nonton Hyori's Bed & Breakfast deh–ada sister IU juga di sana dan hidup rasanya cukup gitu aja.
ALEXANDRA VINNESA
Graphic Design
What: 
Jon Batiste – It's All Right 
Description: 
Been playing this song on repeat ever since I watched Soul! Such a happy, motivational, and relaxing song! Definitely a must listen to kick of the new year! 
SABRINA FARIZKY
Marketing & Partnerships
What:
Wilma Archer – The Boon (feat. Samuel T. Herring)
Description:
Sebetulnya, secara keseluruhan, debut album Wilma Archer ini bagus banget bangeeet dan cocok untuk didengarkan di awal tahun 2021 yang penuh harapan ini, mulai dari tracklist nya, hingga kolaborator-kolaboratornya, semuanya magis. Tapi, kalau disuruh pilih satu lagu, sepertinya "The Boon" adalah gong-nya buat gue. The song itself has this hauntingly romantic nuance, yang diawali dengan manis tapi terasa semakin lama semakin intense dan emotional lalu kembali ditutup dengan irama yang soothing. Semoga tahun ini juga berjalan seperti mood lagu ini ya.