The Panturas Mengajak Kita Kembali Pada Masa Keemasan Sinema Indonesia Melalui Video Klip "Tafsir Mistik"
Video klip lagu ini juga mengambil inspirasi dari film Indonesia lama hingga "Kill Bill".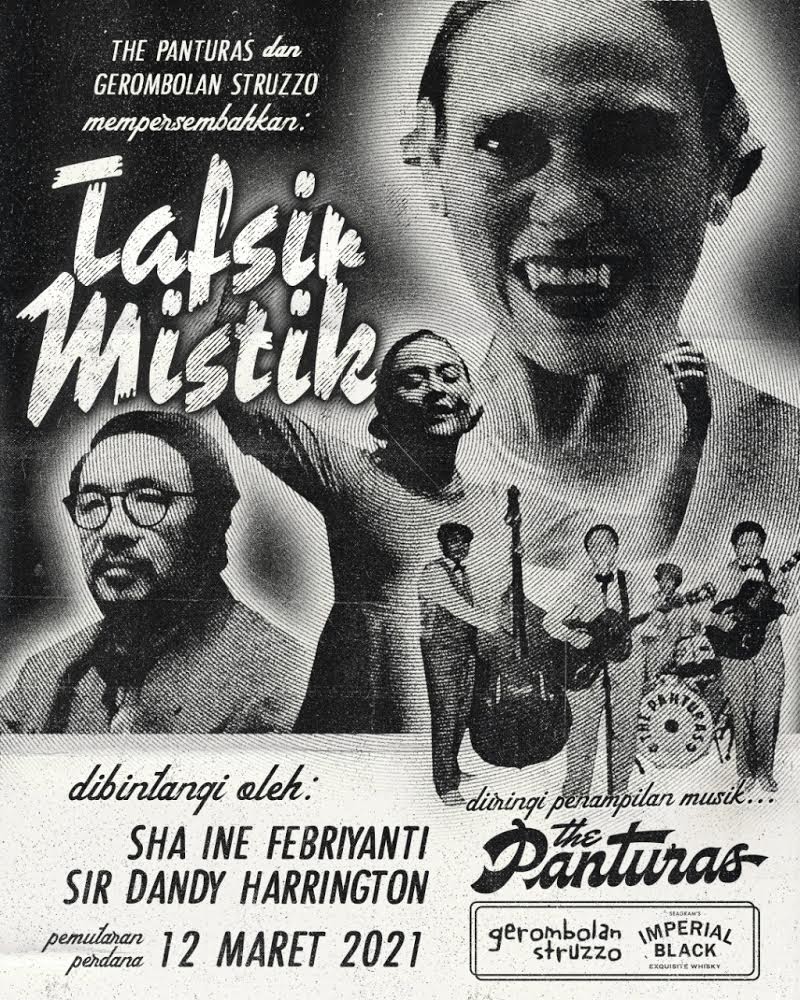 Teks: Rifqi Ramadhan
Foto:Press Photo/The Panturas
Setelah belum lama ini membawa kita kedalam babak baru dalam musik mereka, The Panturas kembali memberikan kita video klip penuh teror untuk lagu terbaru mereka "Tafsir Mistik" yang akan tampil dalam album terbaru mereka. 
Dalam video klip ini, The Panturas dibantu oleh sutradara Yustinus Kristianto bersama Gerombolan Struzzo dan menampilkan aktor layar lebar/teater Sha Ine Febriyanti dan musisi dari pentolan dari Teenage Death Star, Sir Dandy Harrington. Dalam video klip untuk lagu ini sendiri, The Panturas membawa kita kembali ke dalam suasana seperti film horor eksploitasi Indonesia kuno.  
Video klip dari lagu ini sendiri mengangkat tema yang terinspirasi dari mitologi lokal yaitu kuyang. Bermain dengan unsur mitologi lokal bukanlah hal baru untuk unit surf rock satu ini, hal ini dikarenakan sebelumnya, The Panturas sempat mengangkat tema legenda Nyi Roro Kidul melalui lagu "Queen Of The South". Video klip ini sendiri juga mengambil inspirasi dari berbagai film hitam putih Indonesia seperti "Tiga Dara", "Lewat Djam Malam" dan "Darah Dan Doa" namun selain film kuno dari Indonesia, The Panturas juga mengambil inspirasi dari film kontemporer seperti "Kill Bill". 
Melalui video klip ini, The Panturas kembali menunjukan kedewasaan secara visual dan musik, dengan menunjukan keberanian untuk bereksperimentasi dengan unsur sinematik yang jarang disentuh oleh musisi pada zaman ini. 
"Kami menganggap video musik adalah bagian dari catatan sejarah. Dan penting buat kami untuk bisa dinikmati secara visual, tidak hanya audio musikal,", ucap Gogon selaku pemain bass dalam unit ini.