Things We Like: Dari Minggu Ketiga September
Graphic novel, TV series, hingga tempat cakwe yang kami sukai.
Di dalam program "Things We Like", kami mengumpulkan hal-hal yang sedang disukai oleh tim Whiteboard Journal berikut alasannya. Dari novel grafis yang merangkum kelahiran hip hop, rekomendasi tempat cakwe di Bandung, tv series addictive dari Netflix hingga makanan yang muncul di seri "Terrace House", berikut adalah "Things We Like" dari minggu ketiga September.
M. HILMI
Managing Editor
What:
Hip Hop Family Tree
Description:
Kelahiran hip-hop, mulai dari Afrika Bambaataa hingga Run DMC, dirangkum dalam novel grafis yang grafisnya paripurna. Ditulis dan diilustrasikan oleh satu orang saja. Referensinya Robert Crumb. Kurang apalagi?
FEBRINA ANINDITA
Editorial Staff
What:
Elite
Description:
WAH! Awal cerita gue bisa nonton serial ini karena gue nemu di Instagram sebuah video yang isinya 2 karakter gay serial ini sedang make out. Jujur muncul di explore page, lalu penasaran nonton di Netflix ternyata seru. Semacam Twin Peaks x Gossip Girl. Nyebrang banget tapi ringan ditonton walau ga ngerti bahasanya. Kemarin baru rilis season 2. Jadi kalau mau catch up, mending dari sekarang.
Oh iya, salah 1 pemeran karakter gay-nya hot banget namanya Aron Piper. Bentuknya bisa jadi model Gosha gitu. Pusing.
GHINA HANA SABRINA
Editorial Staff
What:
A Mother's Love
Description:
I've heard about this film since it first came out but still haven't found the chance to watch since it's an HBO Go feature – until I found it uploaded on YouTube. In this 50 minute film, Joko Anwar presented an emotional tale involving Indonesia's own wewe gombel. It tells a story about the relationship between a mother and son who lives a very modest life, Marissa Anita stars as the mother who works as a cleaning lady and Muzakki Ramdhan as the son. I wouldn't say much about the plot as it'll spoil the whole story, but there was one scene in the film that really struck me and Muzakki's acting was just superb. 
As much as it is called a horror film, it is to me a family drama. The twists at the end made both the viewers and the protagonist question where the plot is going (aka WTF is going on), but then I cried a little by the end. 
EMMANUELLA PRIMASTIWI
Editorial Staff
What:
Doja Cat – Juicy 
Description:
Whenever you're self conscious about gaining weight or whatever shit, listen to this. Keep it juicy juicy, eat that lunch. 
JANUAR KRISTIANTO
Heart Attack 
What:
MidSommar
Description:
Mau lo tonton di siang hari, sore hari atau malam hari, lo ga bakalan bisa lolos dari jerat visualnya yang indah dan depresif di saat bersamaan (you're basically fucked once you enter the theatre). Sayangnya sensor sana sini bikin pengalaman menonton karya Ari Aster yang satu ini jadi kurang komprehensif. In conclusion, MidSommar is diabolically disturbing with satisfying yet cathartic ending! Highly recommended for date movies!
CLARISSA AMABEL
Art Director
What:
Cakwe Lie Tjay Tat 
Description:
Weekend ini gue terus-terusan makan enak di Bandung #blessed. I can make you a whole pamphlet filled with my recommendations (SPONSOR ME FOR PLACES TO GO? @wbj) 
If you're up early and looking for some good food for your soul, head down to GOR Padjajaran and get yourself some of that Lie Tjay Tat. Dip a piece of hot, freshly fried cakwe into a bowl of sweet kuah kacang aka kacang koa. Have a piece of bakpia–fried dough filled with pork, chives, and seaweed. Lift up both hands in praise and gratitude. You just went to church. Amen!
DILA F. HASAN
Graphic Designer
What:
@daylightpotato
Description:
This instagram account tho…im not really a "cute and sweet things" kind of gal, but this one is an exception UUGGGHH. Gemes banget bikin laper hehe.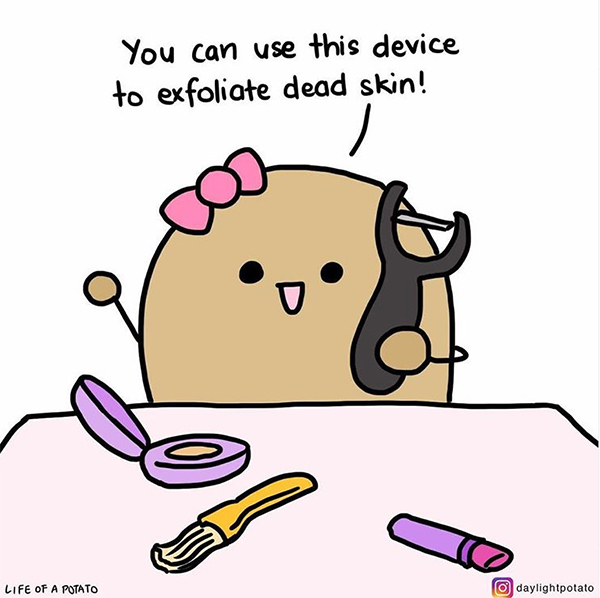 SABRINA FARIZKY
Marketing & Sales
What:
The Food of Terrace House Tokyo 2019-2020
Description:
One of the pleasure of watching Terrace House is to see all the foods that they're eating. Di season Tokyo 2019-2020 kali ini, makanan yang cukup bikin gue ngidam adalah tamago kake gohan (nasi yang dicampur dengan telur mentah dan kecap), spaghetti meat sauce bikinan-nya Shohei (fun fact: baru tau kalo spaghetti kering lebih enak kalo di rendam di air dulu baru direbus) dan Lu Rou Fan (braised pork rice).
Jadi, rekomendasi personal dari gue adalah: jangan nonton Terrace House kalau lagi laper yah.