Things We Like: Favorite Activities During Social Distancing
Kumpulan aktivitas #WFromHome yang kami sukai.
"Things We Like" kali ini merupakan edisi khusus. Sebagai bagian dari #WFromHome, kami mengumpulkan aktivitas favorite yang dilakukan oleh tim Whiteboard Journal sambil menjalankan social distancing. Dari browsing, berkebun hingga membaca, berikut adalah hal-hal yang dilakukan sembari #WFromHome.
M. HILMI
Managing Editor
What:
MAIN SAMA ANAK 
Description:
Selain terhindar dari macet pas berangkat dan kerja, yang paling dinikmati pas #WFromHome adalah bisa lebih punya waktu buat main sama anak. Pas makan siang, abis conference call jadi bisa colongan main, gendong cium Akal bentar. Akal pun terlihat lebih ceria dari biasanya. Walau selalu pas ditinggal kerja lagi suka gak tega, tapi lumayan ada pengalihan yang berfaedah. Kadang pengen ngomong pas sebelum balik kerja, "Akal tunggu bentar ya, masih ada sistem kapitalis yang menunggu di meja kerja. Semoga kamu bisa meruntuhkannya suatu saat nanti." He.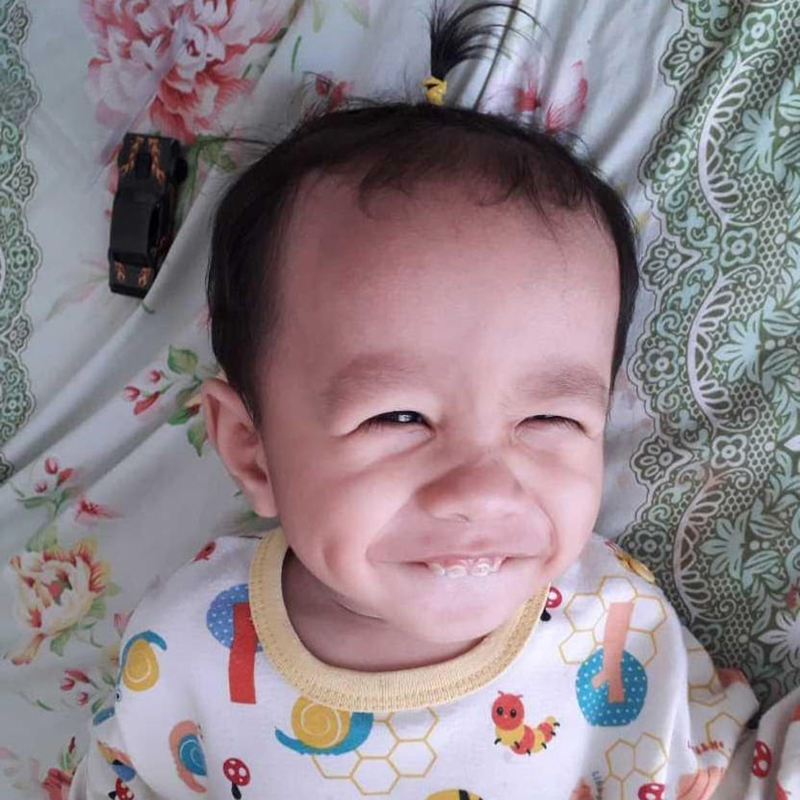 HANA DEVARIANTI
Managing Editor
What:
Ngopi sore di saung
Description:
Selama masa social distancing ini gue jadi bisa melakukan kegiatan favorit gue kalo lagi di rumah: ngopi sore di saung. Biasanya gue cuma bisa melakukan ini pas lagi weekend, itu pun kalau gak pergi jalan-jalan. Tapi, momen #WFromHome ini bikin gue jadi bisa ngopi sore di saung hampir tiap hari sambil ngeliatin kucing-kucing gue dan ikan koi peliharaan bokap nyokap. Biarpun gue biasanya duduk-duduk di saung cuma 15 menit, tapi udah cukup banget buat melepas stres atas kondisi yang serba gak pasti dan bikin cemas seperti sekarang ini.
By the way, if you guys have any coffee beans recommendations, please let me know! I'm getting bored with mine and want to try something new!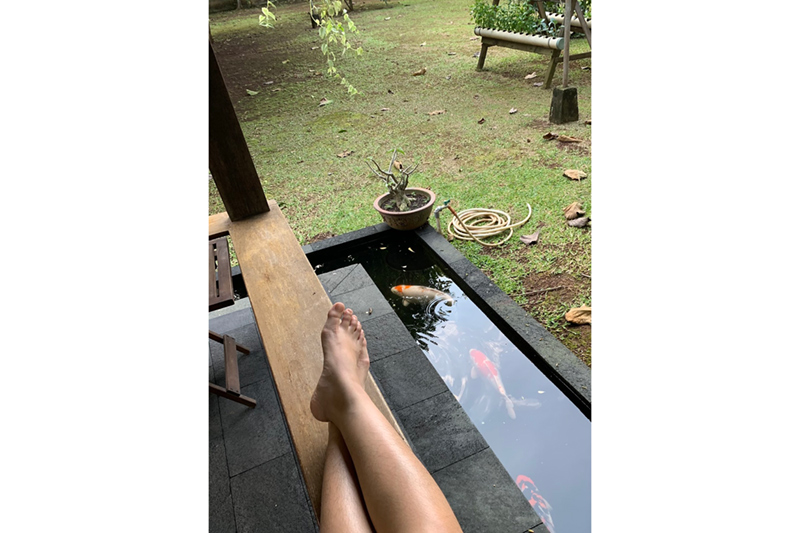 FEBRINA ANINDITA
Editorial Staff
What:
Browsing
Description:
Work from home bikin gw jadi punya waktu luang buat browsing macam-macam karena gak ada commuting. Mulai dari serial, film, musik dicari. Lumayan scattered sih kayak dapat uang kaget tapi gak ada prioritas mau mulai dari mana, gitu. Tapi kalau boleh pilih highlight, beberapa hari lalu my infatuation towards Vladimir Ivkovic muncul lagi, jadi gw browsing interviewnya. Di salah satu interview, dia sebut musisi asal Ukraina bernama Ihor Tsymbrovsky. Cerita penemuannya menarik sampai dia BM rilis ulang materi Ihor dari labelnya, Offen. 
Penasaran dong? Gw coba dengerin lah di Youtube dan yaaaa dingin sih. Underrated cocok didengar di rumah sendirian.

GHINA HANA SABRINA
Editorial Staff
What:
Morning Coffee + Catching up on readings
Description:
It's only been a week of #WFromHome but with that comes the downside, in which every day feels like weekdays. Siapa bilang WFH = libur? Although it is important to set boundaries especially when you work from home, the world doesn't always work that way. Hence, I've been spending my morning hours at least focused on my morning coffee and catching up on the books I've left on the table for so long, or the Medium articles I've bookmarked weeks ago before actually doing anything work-related. 
Anyway, here's a playlist I've been listening to keep myself calm and collected.
EMMA PRIMASTIWI
Editorial Staff
What:
Reading (Leaves of Grass by Walt Whitman)
Description:
THANK YOU MARDHI!!! Shoutout to Mardhi because he came thru for me at BBW.  
Pagi-pagi yang biasanya hectic sekarang agak santai. Kalau bangun langsung buka jendela buat fresh air, beres2 kasur, tapi habis itu tiduran lagi sih hehe. Since we're still going to be in front of the screen for most of the day, I'm trying to give my eyes a break (by using them even more) by reading! I haven't read something without worry in a little while, it's nice to get back to it. 
Currently reading "`Leaves of Grass" by Walt Whitman, it's a collection of his poems including "Song of Myself" and "I Sing the Body Electric". What I like about it is that they are very long and narrative like a series of short stories. Quite refreshing to read, so far my favorite is still "Song of Myself" because it's very… dare I say, quotable?
Here is one of my favorite passages: 
"There was never any more inception than there is now,
Nor any more youth or age than there is now;
And will never be any more perfection than there is now;
Nor any more heaven or hell than there is now. 
Urge, and urge, and urge,
Always the procreant urge of the world."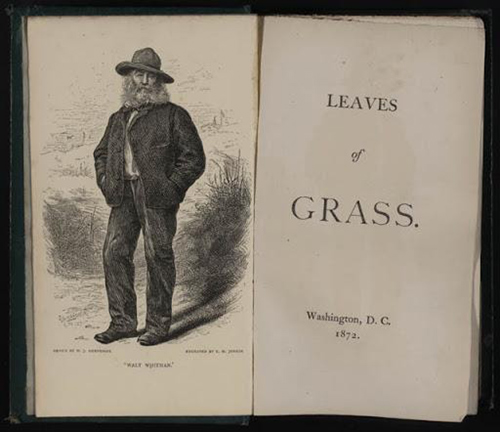 CLARISSA AMABEL
Art Director
What:
Baking & CooOooking
Description:
Hari pertama WFH, gue langsung ke supermarket untuk beli-beli bahan buat bikin masakan yang selama ini pengen banget gue coba. It's like we have so much time in the kitchen, and all the more reasons to cook (because food delivery makes me paranoid)!
What I made & how it turned out:
– Mint chocolate chip / Mint double chocolate chip cookies: Kurang minty tapi enak
– Chicken & rice soup with garlicky chili oil (aka buryam): Kurang asin, tapi resepnya emang ngawang gitu ternyata
– Earl grey tea loaf: Sakses!!!! Cuma kurang sabar menunggu jadi agak crumbly
– Mushroom carbonara (in the end jadi bacon carbonara, mushroom optional): **hngggg** don't even get me started I ruined my mushrooms
Also I have so much leftover herbs now. What do I do with a bunch of DILL????

TIANA LONDA
Graphic Design
What:
Masak
Description:
Selama social distancing ini jadi punya waktu lebih untuk masak di rumah, sekalian untuk mengurangi pesen makanan dari luar (parno karena corona). Lumayan lah, jadi belajar masak dan ngirit pengeluaran daaaan lebih sehat jugaaa hehe. Tapi ya berhubung masih awam, jadi masakannya yang gampang-gampang aja. Kalo enak yaaa bersyukur, kalo gagal dikit ya udah pasrah yang penting masih edible lol.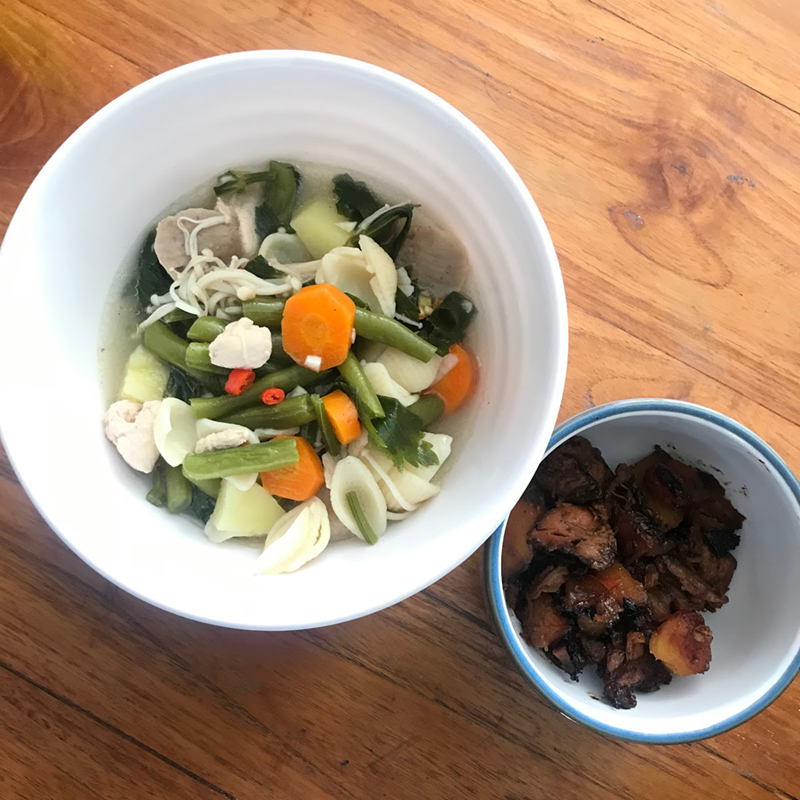 AZZAHRA RIZQA
Graphic Design
What:
Video Call
Description:
Google Hangouts, Facetime, Zoom, you name it! Super thankful for technology nowadays that enables us to connect even when in physical isolation! Socialising in these very stressful, and anxiety-inducing times is fun, soothing, and very much needed.
SABRINA FARIZKY
Marketing & Partnerships
What:
Gardening
Description:
Sebelum adanya keharusan untuk #WFromHome, lumayan males rasanya harus bangun lebih pagi buat ngurusin tanaman di rumah sebelum ngantor, tapi semenjak seluruh rutinitas harian berubah, ternyata momen ini adalah waktunya untuk tenang dan nafas, sekalian berjemur, dan biasanya sambil di temenin suara dua ayam peliharaan gue; Babet dan Rasvet, sebelum menghadapi serangan concall sepanjang hari.
Berikut playlist zen yang bisa di dengarkan kalau lagi mau bersatu dengan alam (sedap):