Humor in Life with Etgar Keret
Ibrahim Soetomo (I) talks to Etgar Keret (E).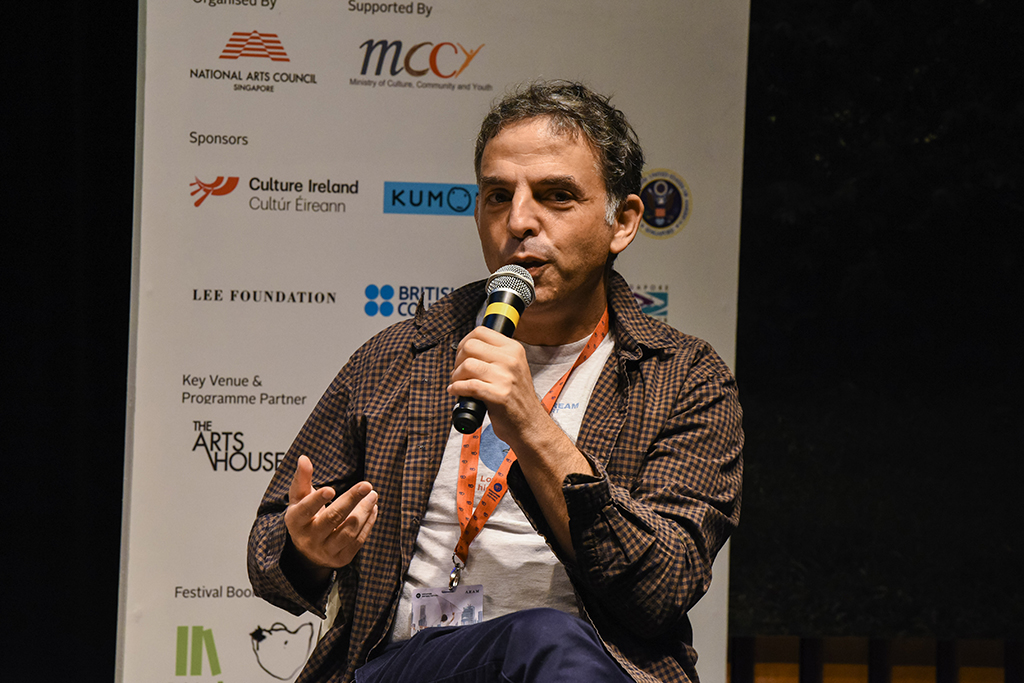 I
How did you start writing short stories?
E
I began writing during my three years compulsory army service. In Israel I was a bad soldier and a very depressed person at that time, writing gave me a way to express both my frustrations and my yearnings. For me, short stories are the most natural form of storytelling. When we meet a friend in the street, we tell him a short story, not a novel. There is something so intuitive for me in writing them. They are more like a reflex than a like a conscious movement.
I
Your works capture everyday lives with simple yet absurd narratives. What made you decide to write this way?
E
When you write, you try to share your perception with the reader. If I write about life as absurd it is, because it is the way I experience them. Unbearably Amazing or Amazingly Unbearable, depends on the day.
I
You've mentioned that Franz Kafka and Terry Gilliam were great writers, but you've also said before that your parents were great storytellers. How did they influence your writing?
E
The stories my parents had told me as a child were always full of compassion. My father would always tell me real stories about people he knew and as bad as their actions were, he would always tell their sides. His stories were full of empathy and I guess for me this is what stories are for: Have a chance how it feels to be someone else.
I
After publishing several short story collections, you finally wrote "Seven Good Years". What made you finally write this and are there any significant differences from your short stories in terms of your creative process?
E
My instinct was always to write fiction. In fiction, the stories are made up but the emotions in the kernel of each one of them is biographic and true. The fact it is a made-up story makes you write more sincerely. When you write non-fiction, being honest is a much more difficult challenge. I'm glad I've written this book but I'm also very happy and relieved to return to writing fiction.
I
You live in an area full of conflict and tragedies. Did that help you with creating stories?
E
Stories are always about a conflict. So, living in the land of conflict may be very difficult for a human being but it is makes a storyteller's life much easier. You just have to step down to the street and the stories will just come running to you.
I
In the film "$9.99", you wrote about the search for the meaning of life by mixing reality and fantasy. What are some of the insights you want to share with the audience?
E
That life is always confusing and that's what makes it so beautiful.
I
The theme of this year's Singapore Writers Festival is "Aram" which raises moral and ethical issues. Do you think that these are global issues? If so, why?
E
For me Aram and writing have a lot in common. Trying to find humanity in the other. I find this yearning a very universal one.
I
What do you think about the role of the Singapore Writers Festival for the development of global literature?
E
I think that a good international writers' festival exposes the local audience to way of thinking that they don't know and the same is true for the visiting writers. The role of introducing different ways of thinking is a hugely important one and I'm grateful to be a part of such an event.
I
You talk about the role of dark humour in stories at the Singapore Writers Festival. Why do you use this style to portray different social conditions? How is this different to usual narratives?
E
Humor is always the weapon of the weak. If you can change your reality you'll change. If you can't the best way to protest and keep your dignity is to make a joke about it.
I
The Festival screened the documentary of your life as a writer. How do you see your works from the beginning to this day?
E
I really can't. You'll need to find someone else, more distant, to tell that story.
I
What are your future projects?
E
I've just finished working on a new story collection and my next project is a TV series I co-wrote and will hopefully co-direct with my wife, Shira Geffen. It is about a real estate agent who can travel in time.