Fly East with White Shoes and The Couples Company
Indra Ameng and WSTACC share their journey in Chennai, India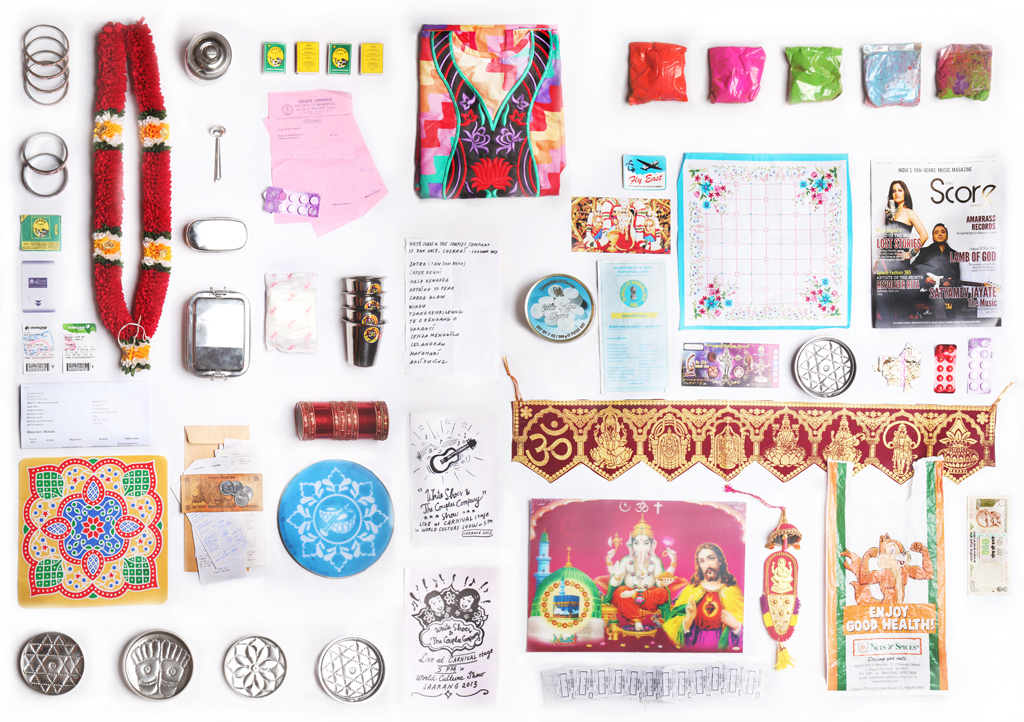 Early August 2012, White Shoes & The Couples Company (WSTACC) received an email contact by one of the Saarang 2013 organizers who had requested us to perform at their segment named World Culture Show. They mentioned taking care of our performance requirements including stage, hotel, transportation in Chennai and our food and beverage cost. This was quite a surprise for me, because we [WSTACC] had never received any contact from India and I wasn't so familiar with the music scene there — especially Saarang Festival. But I felt it was an honour and opportunity that shouldn't be ignored. To visit India, either personally or as a music group, to get acquainted with the culture, and to perform in a cultural festival was thought to be an invaluable experience that could enrich us as a group. For that exact reason, we fulfilled the invitation and flew to Chennai on the morning of January 9, 2013 to perform at Saarang 2013 held at the Indian Institute of Technology (IIT) Madras.
On 9th of January 2013, less that twelve o'clock midnight we arrived to Chennai City where WSATCC was picked up by 4 young men welcoming us with a piece of white carton paper marked with the words "SAARANG 2013". We greeted them and shook hands. Two out of them were easy to recognize, they wore with them IIT Madras – the university hosting the Saarang festival – shirts. This felt like a familiar experience to me, similar to when we were performing out of Jakarta greeted enthusiastically by the students proudly wearing their university shirt or alma mater attributes. For sometime now, we have often been invited by the college students to perform at their universities, which reminded me of the young students of Chennai city. This became one of the factors that interested us to perform at Saarang festival. Other that the fact it was organized by university students, the festival, held once a year, is said to be one of the biggest cultural festival in India with reports of 50 thousand people attending every year. I would imagine this event to have a similar and crowded atmosphere of Pasar Seni ITB in Bandung.
On the second day, we were taken around the IIT Madras campus located 20 minutes from our hotel. IIT Madras observantly is spacious campus with a total area of 600 hectar. I would describe the area as a school compound located in the middle of a protected forest. Think Kebun Raya Bogor or you can even compare it to Kebun Binatang Ragunan with the facility of a school building inside. With the large and luscious forest trees around you would enjoy the view of horn deers and wild monkeys roaming about.
Everything blended naturally with campus life. Here, the students live in dormitories in the campus area. Staff teachers also share the same compound. Students of  IIT Madras can enjoy the privildges of the dormitories, hospitals, canteens, sports fields, performance theatres, and guesthouses. Although not every path can be accessed with a car. School buses there are available, but students are recommended to cycle around the campus environment instead.
We were taken around by foot to observe the activities and fesitivity of the event. First, we were taken to see  the open-air theatre, the main arena of the festival. Upon first glance, the theatre reminded myself of open stage at Taman Ismail Marzuki (TIM) back in the days. When we arrived, there was a dance group preparing for the dance compeition and fashion show that night. The Saarang festival is held 5 days and hosts a variety of shows, other than showcasing local and international talents, it is also a platform for competition and scouting new talents from different fields of arts from dance, theatre, design, stand-up comedian, music (solo or group), short film, writing contest and DJ-ing. The competition is open for anyone and is divided by age and residents of the city.
In the festival you would see various stands of food and drinks, t-shirt, accessories, sponsors and product stands. In our event schedule, the other bands we saw at the World Culture Show segment were Robert Harvey, James Harvey and Daoiri Farrell (Ireland), Gabriel Wizard(USA), Carola Grey (Germany), Jay Hoad (Australia), dan Bittersweet (Malaysia). There was also a veteran prog-rock band from Liverpool, Anathema (UK). Unfortunately, the next days, we weren't able to watch the other performances at Saarang festival. Almost every one of us had suffer from diarhea, with John having to be brought to the hospital. We also had trouble communicating with the organisers and weren't given an itinerary. When we arrived to Chennai, we didn't have our own SIM card because it took 3 days to register for a number and made it much more difficult for us to contact the organisers of the event. It took us 3 days to adjust to everything in India, especially the food.
One of the performances that attracted us the most was a local and famous rock band from New Delhi: Parikrama, a band that have been around since the 90s. When listening to them, I would say they are a combination of Iron Maiden, Pink Floyd, and strangely, Creed. Before Parikrama went on stage, we watched three young rock bands who joined the rock competition called Debicle. The rock concert was filled with over 5000 audiences with a mixture of kids with their parents. The audience were enthusiastic and expressive, they sang along throughout the concert. The other program we saw was the street dance competition, joined by mostly primary kids performing with the complete attributes of hip-hop costume that contributed to their overall impressive moves.
WSTACC performed on the last day of the festival on Sunday, 13 January 2013 at 5 PM at Carnival Stage. The stage was equipped with a special sound system just for us, located at the entrance of the Open Air Theatre about 1000 meters away. That afternoon, we performed before the final performers of the festival, an Indian Music Trio who also is a renowned composer from Bollywood: Shankar-Ehsaan-Loy, performing at the stage by 7 at night.
Looking back at what the IIT Madras students had created, I applaud them for their efforts of preserving tradition by hosting a cultural exhibition each year. They really utilize their resources, equipped facilities, as well as their network to maximise the overall event of cultural show, workshop, and seminar.
First held in 1974, Saarang festival was once named Mardi Grass and had retained the goal of promoting the local interest of cultural arts and literature and to also refine the students of IIT's organizational skills. The festival then changed its name to Saarang in 1996, because it was held consistently every year. The festival wasn't only a campus festival, but it became a city festival and an attraction for the Chennai citizen. When making comparison to Indonesia, I can see a huge potential owned by our main universities as ITB in Bandung, UGM in Yogyakarata, UI in Depok, IKJ in Jakarta and Unud in Denpasar – especially with their comprehensive infrastructure and great network – to organize a yearly arts festival in Indonesia. Oh and in seeing the enthusiasm shown by the Chennai people in music, especial rock and metal. I also see a great opportunity for rock and metal bands of Indonesia to try out  and perform in many other music festivals in India.
Chennai is known as the "Cultural City of South India" how would you describe the South India culture that you experienced during your travels?
Sari: As we know, India is a country with one the oldest culture in the world and we were given the opportunity to explore and visit the city [Chennai]. The history, traditions, and authentic culture can be visibly seen through the old architectural and traditional attires they still wear until this day. The historic culture is also seen through the ornaments at the Tamil Hindu temple, and everything to us were seamlessly put together with modern technology, as Chennai is recognizably known as an education and industrial city of South India.
Rio: The coffee and tea culture in India is very prominent. One afternoon, when we were shopping at T Nagar market, I entered a traditional coffee shop. Inside it there were families and young men taking a break from their trading activities. A small glass of coffee can re-energize them before they return to work again. Coffee shops can be easily found at the side of the streets. Other than coffee, tea or Chai are also drinks favoured during an afternoon break.
In your opinion, from a cultural perspective, what are the apparent similarities and differences from Indonesia and India?
Sari: Visually, the landscape and weather of Chennai is similar to Jakarta. The most visible difference I noticed is that almost all the women in the town are wearing a Sari – their traditional attire. Chennai also welcomed us with a culinary culture that is very different to us. They make use of various herbs that are 10 times more intense than our local food.
Mela: In India I had a chance to explore and witness the preparation of ceremonies in Mylapore-Mandavali. There were so many flower sellers, the women in their Saris' were arranging flowers and making ornaments on the streets. They even coloured the floor of frontcourt of the temple with colourful flowers. That was what I felt when I visited Bali, a local ceremony was done by spreading and placing flowers in front of their houses every Monday. I felt that this was the similarity in culture. The difference is that aren't as many malls in Chennai, and the inhabitant is far more crowded than in Jakarta. I am most amazed by their education standards and also their public service. They serve you earnestly.
Saarang is a big music festival that showcases talent and performances of music, dance, and artwork – both traditional and modern. Was there a performance that stood out for you?
Ale: There was one band named Parikrama, a famous and awaited rock band in India that came from New Delhi. We watched them on the third day of Saarang festival, in an open-air stadium filled with 10,000 people. At first, they performed their own songs, but then covered Iron Maiden's "Fear of the Dark", they also performed Creed, Guns N' Roses, strangely one of their personnel's was playing the violin and would always come in the middle of a song to play his own solo….it was Absurd!
India is said to be a place with strong historical culture and also a spiritual place. Did you have a spiritual experience during your visit?
Ricky: I did feel that way when we were visiting the legendary temple called "Kapaleeshwarar", I was walking accompanied by the song "Shower Your Love" by Kula Shaker with an intro of an Indian brass and I felt as if the statue carvings of the gods at the temple were staring at me. (Maybe I was hallucinating)
Ale: Not really, but I was amazed when were in the Kapaleeshwarar temple at Mylapor, the people were preparing a celebration of the gods trip to the temples. The women were creating decorative art that was so symmetrical by sprinkling color powder with their hand. They named in Kolam in Tamil Nadu language. Whereas in India it is called Rang Goli which means Rang: Powder, Goli: Art.
Aside from music and other activities, what is the most memorable experience for you in Chennai?
Sari: The most memorable experience is day 4 when we were exploring the city. At first we went to Kapaleeshwarar Temple, the biggest temple of worship in Chennai. We were amazed with the beautiful worshiping ornaments sold around the temple. For us, the ornaments were exotic, because we have never seen them anywhere. We also went to the government Musuem of Chennai with its amazing architecture with a gigantic dinasour in the middle of the Museum. It was a funny experience that felt as if we were in a film set. We ended the day by hunting souvenirs at T Nagar area, a traditional market crowded and full of hustle and bustle, beating the hectic atmosphere of Senen Market or Tanah Abang Market in Jakarta.
Ricky: Going around Chennai City at night. Enjoying the architecture remains from the English colony while riding a otorickshaw, and visiting a number of traditional markets. Also trying the local food of Chennai.
Rio: When walking around the city, noticing the graphic elements around town. Everything amazed me. The colors are just spectacular.
John: The first experience was going to the hospital to be treated. I was the only one there, I had to find where to register my name and what to do. The second was shopping at T Nagar, a place to shop for daily goods, probably similar to Asemka in Jakarta. It was difficult to walk there because of the crowd. The third is riding the long-chasis Bajaj. The Bajaj had two row of seats to fit more passengers. At the time seven of us were in a Bajaj and our manager Indra Ameng sat next to the driver.
Many of WSTACC personnel are active in the visual art world. How would you describe India visually?
Rio: The city is like Raymond Pettibon but more colourful, robust, and matter-of-fact.
Mela: In my opinion, India is psychedelic.
Ale: Colorful, symmetrical, decorative, paisley, complimentary colors…to visualize it you feel as if your eyeballs are using the Holga or Diana [Lomography camera] effects. :p
For Mela and John, we heard you were sick in India, can you tell us what got you sick and your experience of being treated in Chennai?
John: When we arrived to Chennai at about 12:00 midnight, everyone was still in good condition. We left to the hotel to rest. In the morning, I suddenly woke with a fever, nauseas feeling and had diahrea. Even after breakfast I started vomiting. I had no idea what the cause was, I haven't consumed any drinks or food at Chennai at all. So other than a a cup of coffee, how did I wake up with a stomach ache?
Because of the terrible condition I was in I had to ask the organiser to take me to the hospital. Although when we arrived at the hospital I was left to go in alone without a clue on where to register myself as a patient. When I finally met the doctor, he gave parasetamol shots, antibiotics, and a form of medication to rehydrate my body.  Through the day, I had still suffer from diahrea and had to use a woman's pads even when performing at Saarang Festival.