GOLF le FLEUR*, Pleasing, dan UN/DN LAQR, Tren Musisi yang Terjun ke Dunia Gender-Neutral Fashion
"In a sense it's marketing, 'I am this person, I represent this next generation; we wear nail polish because it's not a big deal,'" ujar pengamat fashion Jose Criales.
Teks: Nancy Rumagit
Foto: GOLF le FLEUR*
Merch dari musisi-musisi favorit manapun tentunya merupakan suatu langganan bestseller, namun kini tampaknya ada sebuah shift dalam jenis-jenis merch yang tengah diluncurkan kepada masyarakat, dan hal ini diakselerasi oleh banyaknya kolaborasi brand-brand ternama dengan musisi tertentu, seperti kolaborasi Harry Styles dengan Gucci dan Ye dengan Adidas.
Namun selain itu, budaya baru ini pun didorong oleh peluncuran brand-brand tertentu dari sejumlah musisi yang menggunakan fashion sebagai sebuah media lain untuk mengekspresikan seni mereka. Tyler, The Creator, contohnya, baru saja merilis GOLF le FLEUR* akhir tahun 2021 kemarin dan membuka toko pop-up dengan lokasi yang 'ever-changing' (pada saat itu berlokasi di Malibu) menurut situs web resmi mereka, dengan menawarkan produk-produk seperti kuteks, parfum, dan sejumlah pakaian yang selaras dengan tema estetik Call Me If You Get Lost.
Foto: GOLF le FLEUR*
Brand yang dibangun oleh para musisi ini – tidak hanya Tyler, The Creator dengan GOLF WANG dan GOLF le FLEUR*, namun brand lain seperti Homer (oleh Frank Ocean), Pleasing (oleh Harry Styles), UN/DN LAQR (oleh Machine Gun Kelly) – nampaknya meninggalkan bukan hanya antusiasme masyarakat terhadap produk yang dirilis oleh idola mereka, namun juga secara tidak langsung memberikan dorongan untuk gerakan yang tengah berupaya untuk menormalisasikan gender neutral fashion.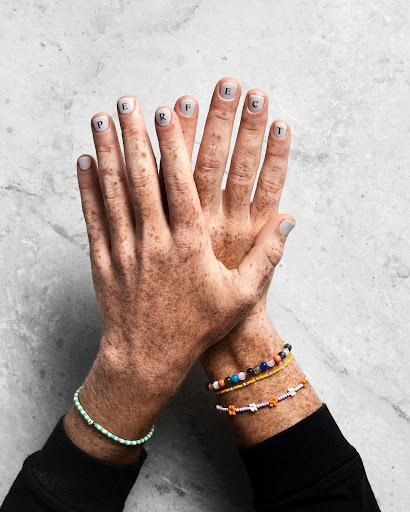 Foto: Pleasing
"In a sense it's marketing, 'I am this person, I represent this next generation; we wear nail polish because it's not a big deal,'" ujar Jose Criales ke GQ. "It is branding in that sense where he's almost trying to take ownership of that movement in a really subtle way." 
View this post on Instagram