Setelah Raih Kesuksesan lewat "Inside", Bo Burnham Kini Rilis Bloopers "The Inside Outtakes"
Dalam rangka merayakan ulang tahun komedi spesial "Inside", Bo Burnham merilis 63 menit cuplikan berisi bloopers dan behind-the-scenes berjudul "The Inside Outtakes".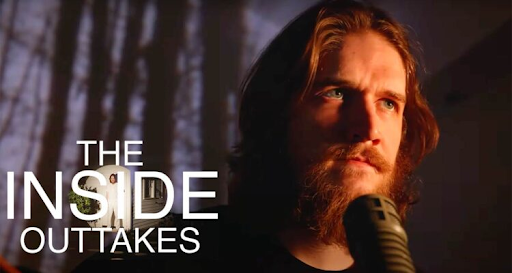 Teks: Jesslyn Sukamto
Foto: Bo Burnham/Youtube
Bo Burnham telah membagikan 63 menit cuplikan yang belum pernah dirilis dari komedi spesial pemenang Emmy Award, "Inside". Terlebih lagi, edisi deluxe dari album pendamping spesial, "Inside (The Songs)", telah dirilis pada 3 Juni lalu.
Burnham membagikan komedi spesial "Inside" pada Mei 2021, dan dengan cepat menjadi sensasi pandemi. Diproduksi di rumah yang sama yang digunakan Wes Craven untuk bagian luar "A Nightmare on Elm Street", acara spesial ini bukan komedi tradisional yang spesial, melainkan eksplorasi musik dari pikiran yang tidak menentu. Itu kemudian memenangkan Emmy Awards untuk Outstanding Directing for a Variety Special, Outstanding Music Direction, dan Outstanding Writing for a Variety Special, serta Grammy Award for Best Song Written for Visual Media for "All Eyes on Me." 
Sekarang, setahun setelah rilis spesial, Burnham mengejutkan penggemar dengan membagikan cuplikan bonus lebih dari satu jam, yang dapat Anda streamingkan melalui channel YouTube-nya. 
a year ago today, i released a special called inside. i've spent the last two months editing together material that i shot for the special but didn't end up using. it will be on my youtube channel in one hour. i hope you enjoy it.

— Bo Burnham (@boburnham) May 31, 2022
Beberapa cuplikan benar-benar diambil, diedit bersama dengan cerdik seperti yang diharapkan dari Burnham. Beberapa momen juga tampak sebagai bloopers asli, sementara yang lain memberikan wawasan tentang proses di balik layar pembuatan spesial, yang ditulis, disutradarai, difilmkan, diedit, dan dibawakan oleh Burnham sendiri.
Tonton "The Inside Outtakes" di bawah ini.