Penelitian Terbaru Harvard Menemukan Bahwa Ternyata Penyebab Dinosaurus Punah Bukanlah Asteroid
Teori ini dimuat dalam makalah penelitian berjudul "Nature's Scientific Report".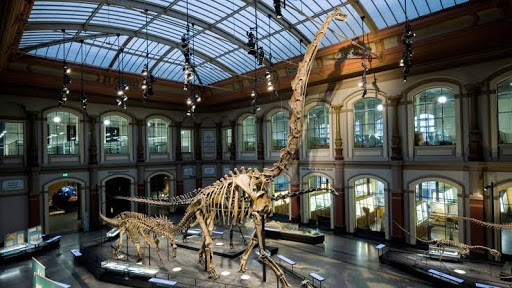 Teks: Rifqi Ramadhan
Foto:Science/Smithsonian Fossil
Melalui buku, film dan dokumenter sudah tertanam dalam ingatan kita bahwa penghuni Bumi sebelum kita atau dinosaurus punah karena hantaman asteroid. Akan tetapi, sebuah riset baru dari Harvard menyimpulkan ada teori baru mengapa spesies ini bisa punah dari muka bumi. 
Sebuah studi yang dipublikasikan dalam makalah "Nature's Scientific Report" berkata bahwa ada kemungkinan besar bahwa yang menabrak bumi hingga terjadi perubahan iklim yang sangat besar hingga spesies dinosaurus punah berasal dari pecahan komet, bukan asteroid seperti yang kita ketahui sebelumnya. 
Dalam makalah tersebut, peneliti Amir Siraj dan Avi Loeb datang dengan sebuah teori baru yang berkata bahwa pada 60 miliar tahun lalu, sebuah komet menabrak Bumi dan membuat kawah Chicxulub dan memperburuk iklim Bumi. Melalui penelitian mereka, disimpulkan bahwa komet tersebut berasal awan oort. Sebuah piringan komet es yang berada pada penghujung galaksi Bimasakti. Melalui teori Amir dan Avi, komet tersebut bisa menghantam bumi dikarenakan anomali pada daya gravitasi pada planet Jupiter yang menarik komet tersebut keluar dari jalur lintasan. 
Selain anomali pada gravitasi Jupiter, masuknya komet ini kepada atmosfer kita terjadi karena daya tarik yang dihasilkan oleh Jupiter terhadap komet ini, membuat komet tersebut mendekat kearah Matahari kita. Hal ini membuat komet ini berpindah jalur laju menuju Bumi. 
"The solar system acts as a kind of pinball machine. Jupiter, the most massive planet, kicks incoming long-period comets into orbits that bring them very close to the sun,"  ucap Amir Siraj.
Klaim dari studi yang dilakukan ini. Dibantu dengan banyak sekali ditemukan kandungan merkuri dalam fosil yang kerap ditemukan. Hal ini dikarenakan diduga kandungan merkuri tersebut ada karena kontaminasi iklim buruk yang terjadi setelah benda asing tersebut menabrak Bumi.