Tanpa Sengaja, Ilmuwan Menemukan Makhluk Misterius Pada Dasar Lapisan Es Antartika
Sebelumnya, ilmuwan tidak pernah mencatat makhluk seperti ini.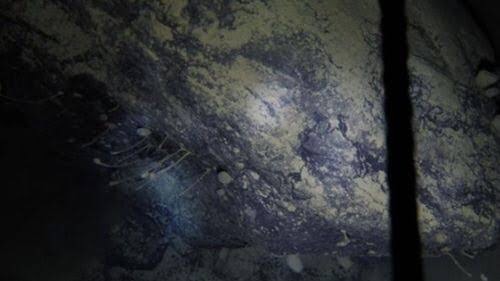 Teks: Rifqi Ramadhan
Foto: News Finale/Antarctic life form
Walau tahun 2021 bahkan belum berjalan setengah waktu, banyak penemuan menarik terjadi pada tahun ini. Seperti contohnya, baru-baru ini para ilmuwan dan geologi baru saja menemukan spesies baru pada benua Antartika.
Beberapa waktu lalu, gabungan dari ilmuwan dan tim geologi baru saja menemukan hadirnya kehidupan di balik lapisan rak es Antartika. Dilaporkan melalui platform Wired, tim dari British Antarctic Survey (BAS) yang dipimpin oleh Dr. Huw Griffiths awalnya berencana hanya untuk mengambil sampel sedimen batu pada bagian Selatan Antartika, secara tidak sengaja menemukan sekumpulan makhluk yang misterius. Ketika Huw dan tim akan mencoba mengangkat bebatuan, Huw dan tim terkejut bahwa mereka melihat ada hewan yang tidak dapat diidentifikasi ikut bergerak mengikuti bebatuan tersebut. 
"We were expecting to retrieve a sediment core from under the ice shelf, so it came as a bit of a surprise when we hit the boulder and saw from the video footage that there were animals living on it,", komentar Dr. James Smith, salah satu tim ilmuwan dari BAS. Menurut Dr. Smith, binatang misterius tersebut terlihat seperti memiliki tekstur kulit seperti spons. 
Dr. Huw Griffiths berkomentar bahwa penemuan spesies ini menjadi penemuan saintifik yang sangat besar, hal ini dikarenakan bahwa penelitian tidak pernah mencatat bahwa spesies seperti ini ada sebelumnya. Griffiths juga berkata bahwa binatang ini bertahan hidup dengan memakan partikel makanan yang terbawa air dan tidak bergantung dengan sinar matahari sedikitpun. 
Setelah penemuan tidak disengaja ini terjadi, BAS kini  menjadikan fokus utama mereka untuk mempelajari spesies ini. Namun, para ilmuwan diharuskan menemukan cara baru dan alat yang memadai agar dapat mempelajari binatang tersebut dalam habitat asli mereka yang jauh dari sinar matahari.