Crystals and Burning Sages: Lorde Bahas Spiritualitas Dalam Lagu "Mood Ring"
Sebuah satir dari budaya pseudo-spiritual, "Saya pikir, sepertinya bisa membuat lagu pop dari fenomena ini."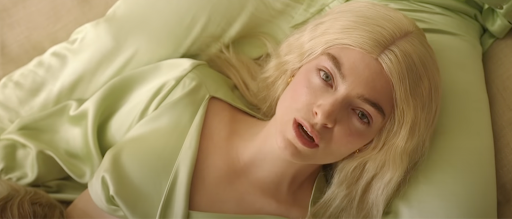 Teks: Deandra Aurellia
Photo: Lorde/youtube.com
Lorde kembali merilis singel terbarunya dalam rangka menyambut album Solar Power. Kali ini, ia menghadirkan "Mood Ring".
Perilisan lagu ini ditemani video klip ciamik yang dibuka dengan sebuah pesan: "Objects in the mirror are closer than they appear." Di bawah tenda kanopi, Lorde yang sekarang memiliki rambut pirang, terlihat dikelilingi sekelompok wanita dengan pakaian warna hijau mint. Sepanjang ia bernyanyi, kelompok tersebut melakukan rutinitas spiritual: membaca, membakar sage, dan mencuci kaki di sebuah baskom es.
"Ladies, begin your sun salutations," ucap penulis lagu tersebut kepada geng wanitanya. "Transcendental in your meditations."
Disutradarai oleh Joel Kefali dan Lorde sendiri, visual ini merupakan sebuah approach satir yang mengangkat budaya pseudo-spiritual, versi modern dari kultur "flower power" tahun 60-an yang jadi salah satu tema utama albumnya mendatang ini.
"Hal-hal seperti pola hidup vegan, membakar sage, koleksi batu kristal, mempelajari tarot dan horoskop. Seluruh hal ini sudah dikupas seluruhnya di masa lalu, namun sekarang saya dan teman-teman saya jadi tertarik mempelajarinya," ungkapnya. "Saya pikir, sepertinya bisa membuat lagu pop dari fenomena ini."
Seperti kedua singel sebelumnya, "Stoned At The Nail Salon" dan "Solar Power", "Moon Ring" juga diproduksi oleh Jack Antonoff. Lagi-lagi, Clairo dan Phoebe Bridgers ikut menyumbangkan suaranya sebagai backing vocals.
Album pertama Lorde dalam empat tahun, Solar Power, akan rilis Jumat ini pada 20 Agustus 2021 di seluruh layanan musik digital.