Paramore akan Merilis Ulang Album "Riot!" dalam Format Vinyl Warna Perak untuk Merayakan 25 Tahun Fueled By Ramen
Paramore mengadakan kontes yang melibatkan para penggemarnya untuk mengirim desain versi terbaru "Riot!" dan terdapat hadiah sebesar $500 USD bagi pemenangnya.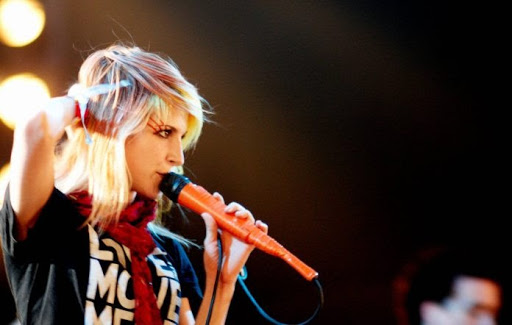 Teks: Daniet Dhaulagiri
Foto: Gary Wolstenholme / Redferns
Dalam rangka merayakan ulang tahun Fueled By Ramen yang ke-25, Paramore rencananya akan merilis kembali salah satu albumnya yang monumental yakni "Riot!" dalam format piringan hitam warna perak sebagai partisipasi bentuk perayaannya.
"Riot!" sendiri merupakan album penuh kedua dari Hayley Williams dan kawan-kawan, album tersebut pernah mencapai urutan lima belas di Billboard 200, mendapatkan status dobel platinum pada 22 Maret 2016 oleh  Recording Industry Association of America (RIAA). Trek populer mereka seperti "That's What You Get", "Crushcrushcrush", dan "Hallelujah" merupakan beberapa yang terdapat dalam album tersebut.
Kabar mengenai perilisan ulang album "Riot!" dalam format piringan hitam berwarna perak sebagai perayaan ulang tahun labelnya tersebut disampaikan oleh pentolannya, Hayley Williams, melalui sebuah unggahan video di Twitter pada 6 April lalu. Williams menjelaskan, "Around the reissue's release, which will be in May, we wanted to do something really special with you because, you know, it's been a minute. It's been a while."
RIOT! is being rereleased on a special silver vinyl for the 25th Anniversary of @FueledByRamen. help design some merch to go alongside it. info here: https://t.co/ATcZXLq2c5 pic.twitter.com/scgExzF0OK

— paramore (@paramore) April 6, 2021
Pada perilisan tersebut Paramore bekerja sama dengan sebuah perusahaan pemasaran, Creative Allies, yang juga melibatkan para penggemarnya untuk mengirimkan desain spesial untuk artwork "Riot!" versi terbaru dan nantinya akan dijual sebagai merchandise pada laman web milik Paramore.
Williams lanjut menjelaskan lagi mengenai kontes dalam video tersebut, "Submit your design, make it 'Riot!'-related – it could be lyrics, it could be anything you want – and the winner will have a design reproduced in the web store, and you're going to win $500."
Bagi kalian yang tertarik mengikuti kontes desain untuk perilisan ulang album "Riot!", kalian bisa mengunjungi laman web dari Creative Allies untuk informasi selengkapnya.