Things We Like: Dari Minggu Kedua Mei
Musik, acara TV, hingga kucing yang kami sukai.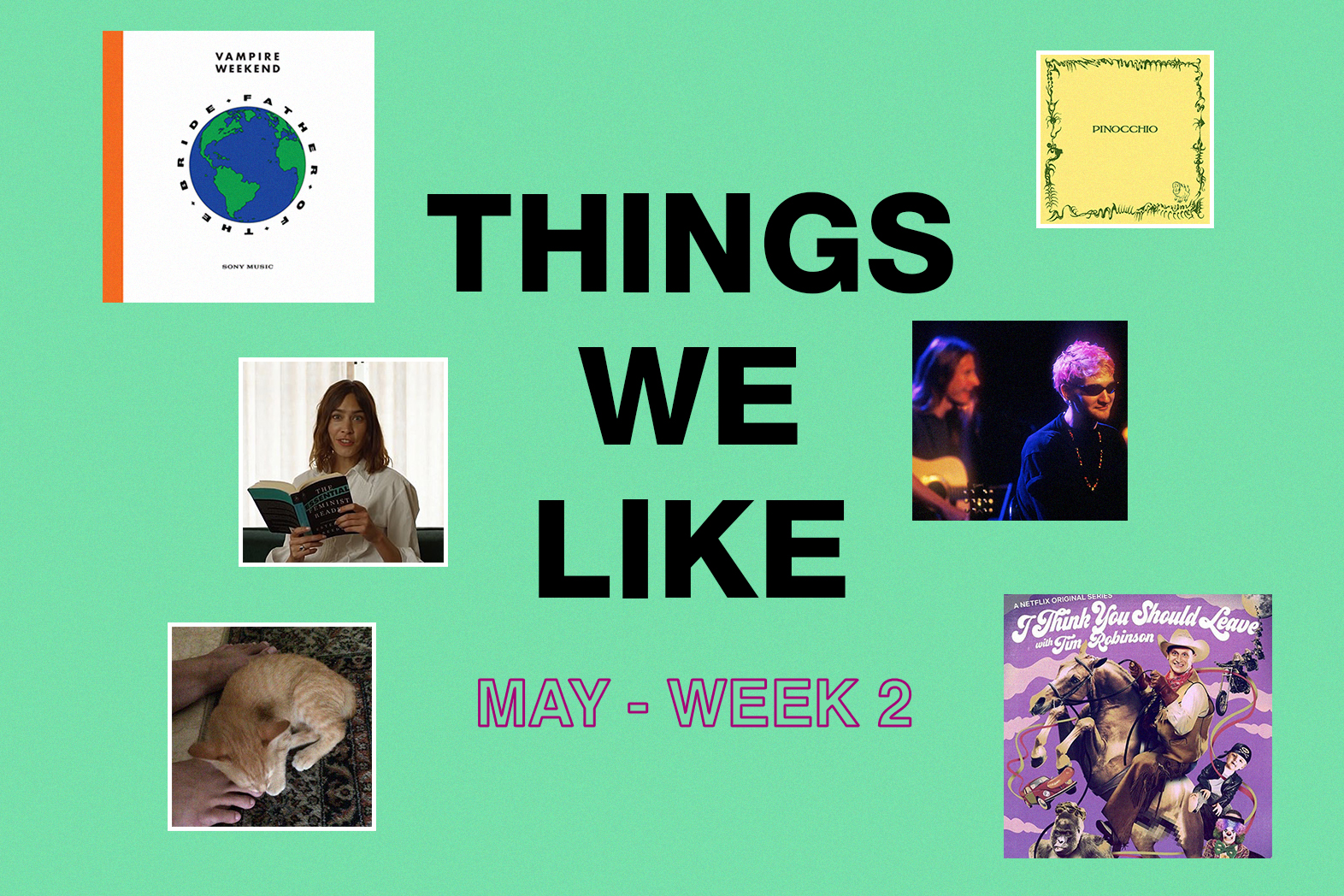 Di dalam program "Things We Like", kami mengumpulkan hal-hal yang sedang disukai oleh tim Whiteboard Journal berikut alasannya. Dari performance dan album baru dari band kesukaan, sketch show terbaru di Netflix, hingga adaptasi konten video yang sedang tren, berikut adalah "Things We Like" dari minggu kedua Mei.
FEBRINA ANINDITA
Editorial Staff
What:
MTV Unplugged Alice in Chains
Description:
Dulu waktu kuliah suka dengar band ini hahaha. Minggu lalu jadi dengar lagi karena suatu malam lembur, sempat ada obrolan musik dengan Jan dan Ken.
Selain "The Killer is Me", lagu "Frogs" jadi favorit gw, dan di MTV Unplugged mereka tampil raw banget. Entah kenapa rasanya Alice in Chains ini somehow underrated padahal band bagus dan vokal Layne powerful – salah satu vokal yang bisa bikin pendengar merasakan liriknya.
AMELIA VINDY
Editorial Staff
What:
Alexa Chung Jadi Youtuber (damn!)
Description:
That's all. Super excited to see every content from her omg omg omg!
GHINA HANA SABRINA
Editorial Staff
What:
Father of the Bride – Vampire Weekend
Description:
Honestly, I never would've thought that in 2019, I'd still be listening to Vampire Weekend. Also, who knew that Danielle Haim would be a great addition to the band? But questions aside, "Father of the Bride" is definitely a great album. It cycles through love and loss, through rock, pop, country, soul, flamenco, folk, and even soul throughout 18 tracks. It's a departure from the manic-sounding debut and "Contra", even from the grandeur "Modern Vampires of the City", but "Father of the Bride" sounds like maturation and contentment – which I feel what Ezra Koenig is actually going through.
JANUAR KRISTIANTO
Heart Attack
What:
Pinocchio – S/T EP
Description:
Nama yang relatif absurd & quirky untuk sebuah band punk. Sekilas cover artwork-nya punya aura deathrock tapi ternyata ane salah besar, justru musik yang tersaji di dalamnya membawa gue balik ke gelombang awal punk di era 70-an (think of The legendary New York Dolls), khususnya kota New York. Tergabung dari ex-members band-band punk grade A seperti Crazy Spirit, Dawn of Humans & Anasazi di antaranya, unit ini mampu mengolah materi solid yang ambisius, melodius & membius. Ponx roxx.
DILA F. HASAN
Graphic Designer
What:
Kuffy si anak kucing manja
Description:
Bisa dilihat dari foto yang ada, kucing ini kemana-mana harus ditemenin mungkin dia punya abandonment issues kali ya? Kalo kita tinggal dikit dia langsung nyariin :''''( Walaupun gue cuman ketemu Kuffy satu atau dua minggu sekali, tapi kelakuan dia bikin gue kaget akan pintarnya kucing in general. Dia selalu ngajak main, loncat sana sini, ngejar salah satu member rumah dan gigit celana mereka, did number 1 and 2 pada tempatnya, makan maunya kalau ditemenin terus kalau tidur langsung manjat orang yang lagi duduk di kursi dan tidur di atas paha/perutnya. Uggghh i love herrrrrr so much!
SABRINA FARIZKY
Marketing & Sales
What:
"I Think You Should Leave with Tim Robinson"
Description:
Tim Robinson baru saja merilis sketch show-nya sendiri yang juga diproduseri oleh The Lonely Island di Netflix dengan judul "I Think You Should Leave," and it is beyond perfection.
Selain dipenuhi oleh cast yang sangat impressive (Sam Richardson?? Will Forte?? Cecily Strong?? Andy Samberg,??), sketch-nya pun diisi dengan rentetan script dan punchline yang tepat sasaran.
Agak sulit sih kalau harus milih sketch mana yang terbaik, tapi salah satu yang paling memorable buat gue adalah sketch berjudul 'Focus Group' yang dibintangi oleh Ruben Rabasa. Silahkan tonton sendiri:
MAR GALO
Bamboo Twist
What:
Berapa Harga Outfit Nonton Dangdut Di Dusun?
Description:
Jadi tahu ada outlet Al Fatah, Tag Heuer harga miring (35rb), dan penasaran sama Warung Mbok Wasiyem, distributor Swallow tertinggi di dusun Deresan. Kayaknya hits banget. Cendol cendol dawet dawet, cendol dawet seger!