Things We Like: Dari Minggu Kedua November
Musik, radio show hingga tempat makan yang kami sukai.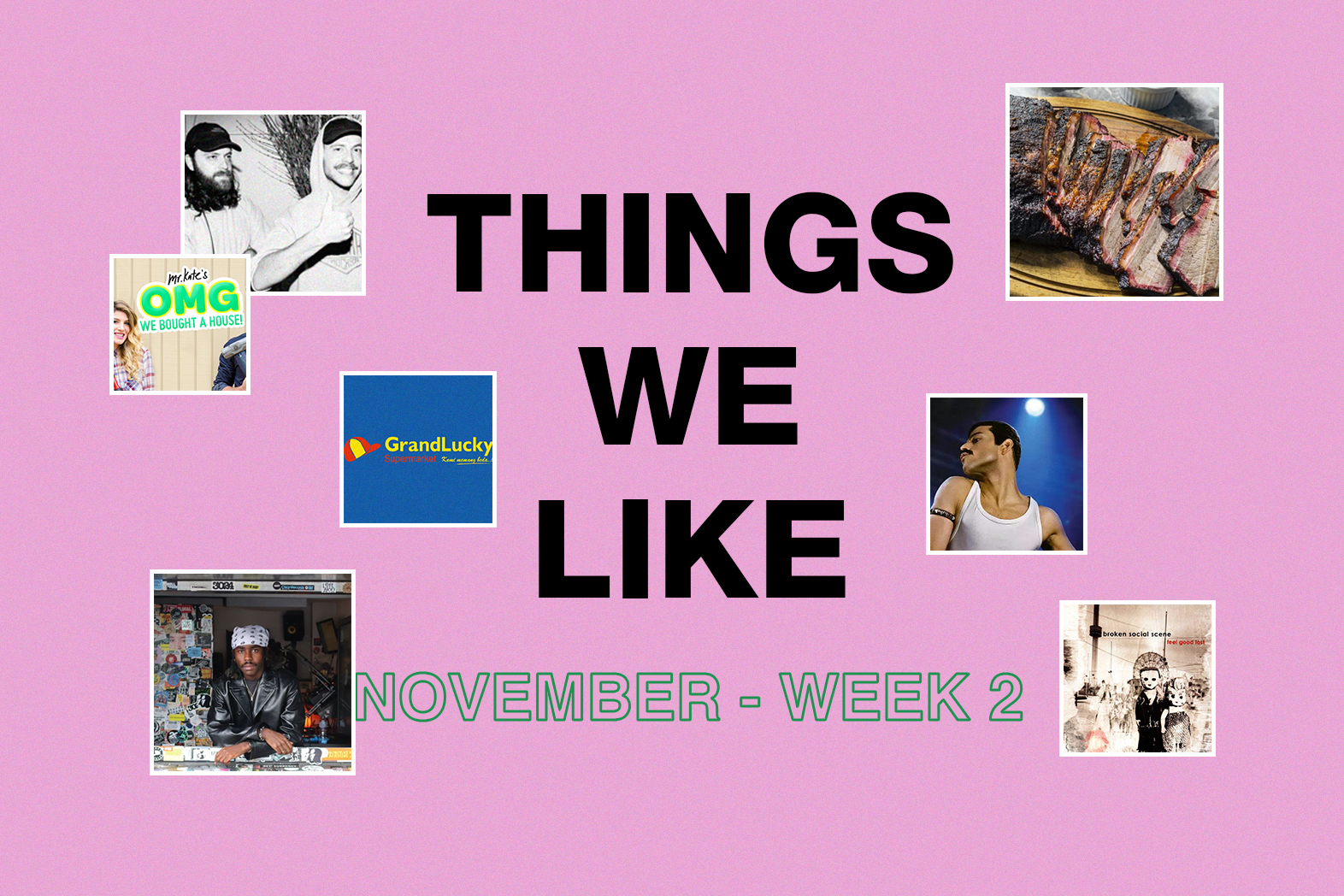 Di edisi terbaru "Things We Like", kami mengumpulkan hal-hal yang sedang disukai oleh tim Whiteboard Journal berikut alasannya. Dari band emo asal Bandung, radio show di NTS, hingga tempat makan yang cocok untuk musim hujan, berikut adalah "Things We Like" dari minggu kedua November.
KEN JENIE
Editor
What:
Grand Lucky Coconut Water
Description:
If you happen to find yourself in Grand Lucky for your monthly shopping, be sure to stop by the juice section and get yourself the generic coconut water. It's about 10-15,000 Rupiah cheaper than the stuff you find in most supermarkets, and arguably tastes better too.
M. HILMI
Managing Editor
What:
Jolly Jumper
Description:
Gara-gara Alyuadi Heals bilang kalau band Bandung yang jadi panutannya adalah Jolly Jumper di Loka Suara Live At The Other Festival kemarin, jadi dengerin lagi. Beberapa lagu masih enak ternyata sekian tahun berselang. Dulu nggak terlalu suka ketika album "Feels" keluar, tapi sekarang justru bisa lebih menikmati. Mungkin sekarang lebih paham maksud dan referensi yang mereka pakai di sini. Jangan lupakan judul-judul lagu mereka yang heartfelt banget, lihat saja dalam satu album mereka punya lagu bertajuk, "Missing You To Death", "Transmisi Menuju Kehampaan", juga "Terbunuh Dalam Sepi".
Kalau ada yang jual kaos Jolly Jumper mint condition size M boleh kabar-kabarin ya. Saya mau.
FEBRINA ANINDITA
Editorial Staff
What:
Dekadenz: Simple Symmetry
Description:
Gue inget waktu itu Hotel Monopoli baru buka di akhir 2017 dan Adit (Dekadenz) yang juga Music Director Syah Establishments ngetes The Room pertama kali bareng Ojon. Saat itu Adit bilang lagi mau coba bawa Simple Symmetry setelah bawa Dreems (Multi Culti) di awal tahun – rasanya kaya wacana menarik untuk didoain jadi nyata. Ternyata di awal 2018 mereka berhasil bawa Thomas Von Party dan Manfredas. Saat hampir 1 tahun sejak wacana keluar dari mulut Adit dan gue udah lupa, Simple Symmetry datang tanggal 9 November 2018.
Set mereka keren, tapi sayang nggak mainin lagu favorit "Voodoo Your Ex" karena Sasha Lipsky bilang lupa mainin hahaha. Also, I gave a yellow Whiteboard Journal cap to him but he gave it to his brother; Sergey, for he kept losing his cap. Sergey said it's his favorite cap now. Whiteboard Journal goes to Moscow!
GHINA HANA SABRINA
Editorial Staff
What:
St. John Restaurant's Instagram
Description:
To the late Anthony Bourdain, St John was the restaurant of his dreams. But, it wasn't only about the food, he loved everything about it; the attitude, the look, the food and the wine. To add to the list is their Instagram account.
This is from their most recent post: "BEHOLD THE LOAF OF POSSIBILITY! "A happy loaf glows with potential" Fergus says. "With a proud loaf in your kitchen, sandwiches, toast and trenchers… mopping and soaking… all these become imminent promises. Bread is the ultimate expression of possibility"."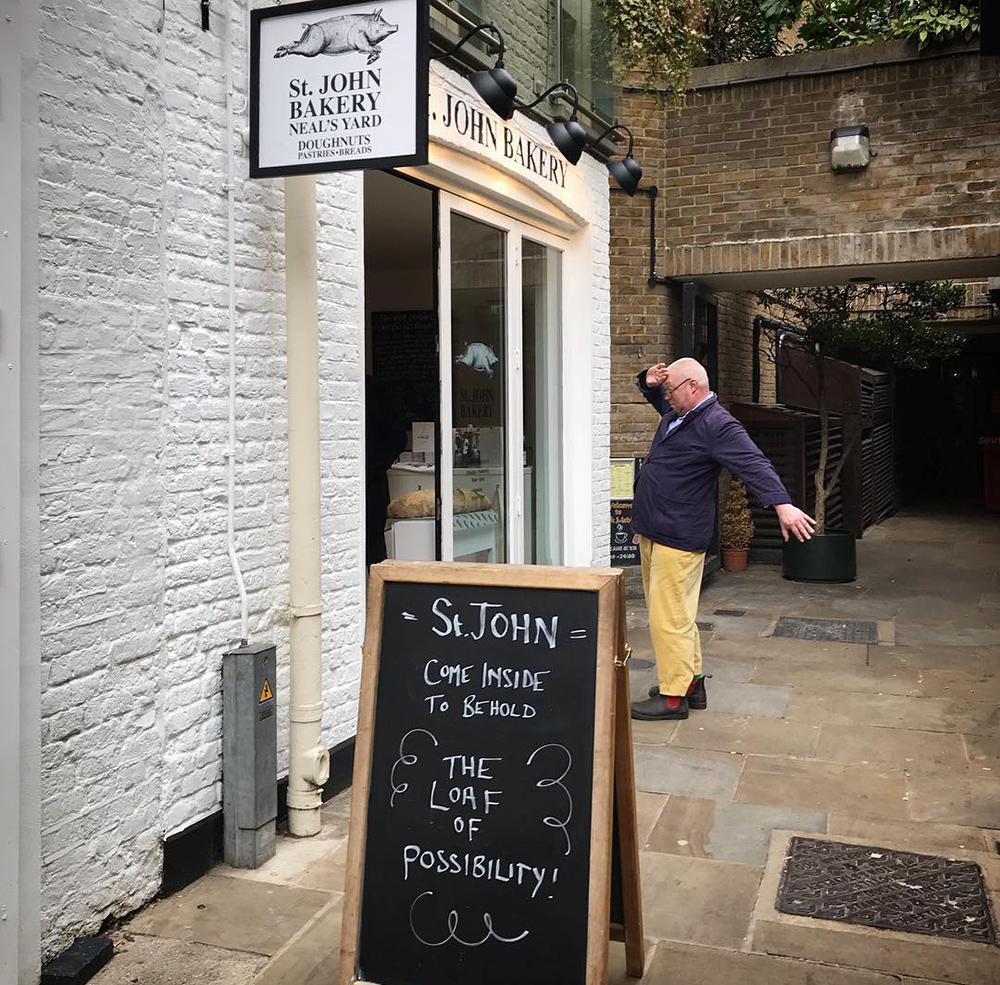 EMMANUELLA PRIMASTIWI
Editorial Staff
What:
Mr. Kate – OMG We Bought A House
Description:
This weekend I got to live out my domestic goddess dreams by watching all of Mr Kate's videos on YouTube. Basically like 'Bedah Rumah' versi pinterest tanpa drama keluarga dan tetangga.
CLARISSA AMABEL
Art Director
What:
Say Something's Iced Black
Description:
Gotta give credit where it's due. Thanks Say Something for the daily caffeine kick that's been keeping me running for, oh, the past 6 months? Used to drink strictly coffee-with-milk varieties, but I am now an advocate for a solid iced blaaaack. Also, late discovery: works well with Nissin Chocolate Wafers. Will keep you posted for more pairing suggestions.
ENRICO EMMANUEL
Graphic Designer
What:
Claypot Popo
Description:
Musim hujan, dingin-dingin, waktu yang paling pas kalau kalian mau nyobain makan claypot popo. Tempat ini merupakan sebuah restoran yang "jujur". Pilihan menunya tidak terlalu mengada-ada, rasanya enak, porsinya pas, interiornya homey, dan harganya enteng di kantong.
#nyaman
VINCENT WIDJAJA
Graphic Designer
What:
Broken Social Scene – Last Place [from 'Feel Good Lost' – 2001]
Description:
Hmm…melancholic bliss. Feel good lost indeed.
DILA F. HASAN
Graphic Designer
What:
Bohemian Rhapsody – Movie
Description:
Jujur gue emang bukan fans besarnya QUEEN, tapi setelah nonton film ini jadi banyak tahu mengenai konteks di semua lagu-lagu yang dibuat oleh mereka, yang ternyata sangat membangun kepercayaan diri para penontonnya. Karakter Freddie Mercury sendiri yang dibawakan oleh Rami Malek disini sangat memukau, kemiripan gerak-gerik, segala gimmick yang dimiliki oleh Freddie dipelajari sangat dalam :(:(:(. Satu-satunya film tentang band yang bisa bikin gue nangis! They surely will rock you!
SABRINA FARIZKY
Marketing & Sales
What:
Blood Orange for NTS
Description:
Sebelumnya, terima kasih Baldi yang telah merekomendasikan platform nts.live, karena selain langsung jatuh hati sama interface music player-nya (cc: Fendy & Capital Six team), tapi juga jadi lumayan menjadi penyegar kalau sedang mentok cari lagu di Spotify.
Saat lagi cek previous shows nya, ternyata baru-baru ini Dev Hynes a.k.a Blood Orange baru aja menjadi host untuk guest show di NTS, dimana dia menyuguhkan set yang  sangat mendukung kalau mau fokus disaat banyak deadline menanti.
ADYTHIA UTAMA
Videographer
What:
Smoked Brisket
Description:
Ada beberapa opsi ketika tinggal di Jakarta, kalau lagi kere bisa berangkat ke Baragrills di Bintaro, atau order gojek dari Selow meat. Kalau buat rame-rame tinggal order kiloan dari Bubba's Barbecue atau Roastafari, bisa juga ke toko Jayson's di Terogong. Kalo baru gajian, hmm pilihan brisket fatty dari Holy Smokes juga mayan. Terlalu mainstream? Ya ke tempat lainnya macem Up In Smoke di Kuningan, El Machote di Menteng, atau Frank's Smokehouse di Kemang. Menutup things we like versi saya ini, yuk kita tonton video singkat ini, direkomendasikan untuk di tonton di monitor 4K.
RANDY RAIS
Sutradara
What:
Everything
Description:
Simulator Ayahuasca non linear oleh David OReilly.
MAR GALO
Bamboo Twist
What:
Mengubah Musik Apapun Menjadi Koplo
Description:
Mamang Kesbor memperkenalkan aplikasi Koplofy yang literally bisa mengkoplofy semua genre musik, dari klasikal hingga indie-folk. Semoga terinspirasi! Aku siy yes!