Things We Like: Dari Minggu Keempat Januari
Music, podcast, hingga makanan yang kami sukai.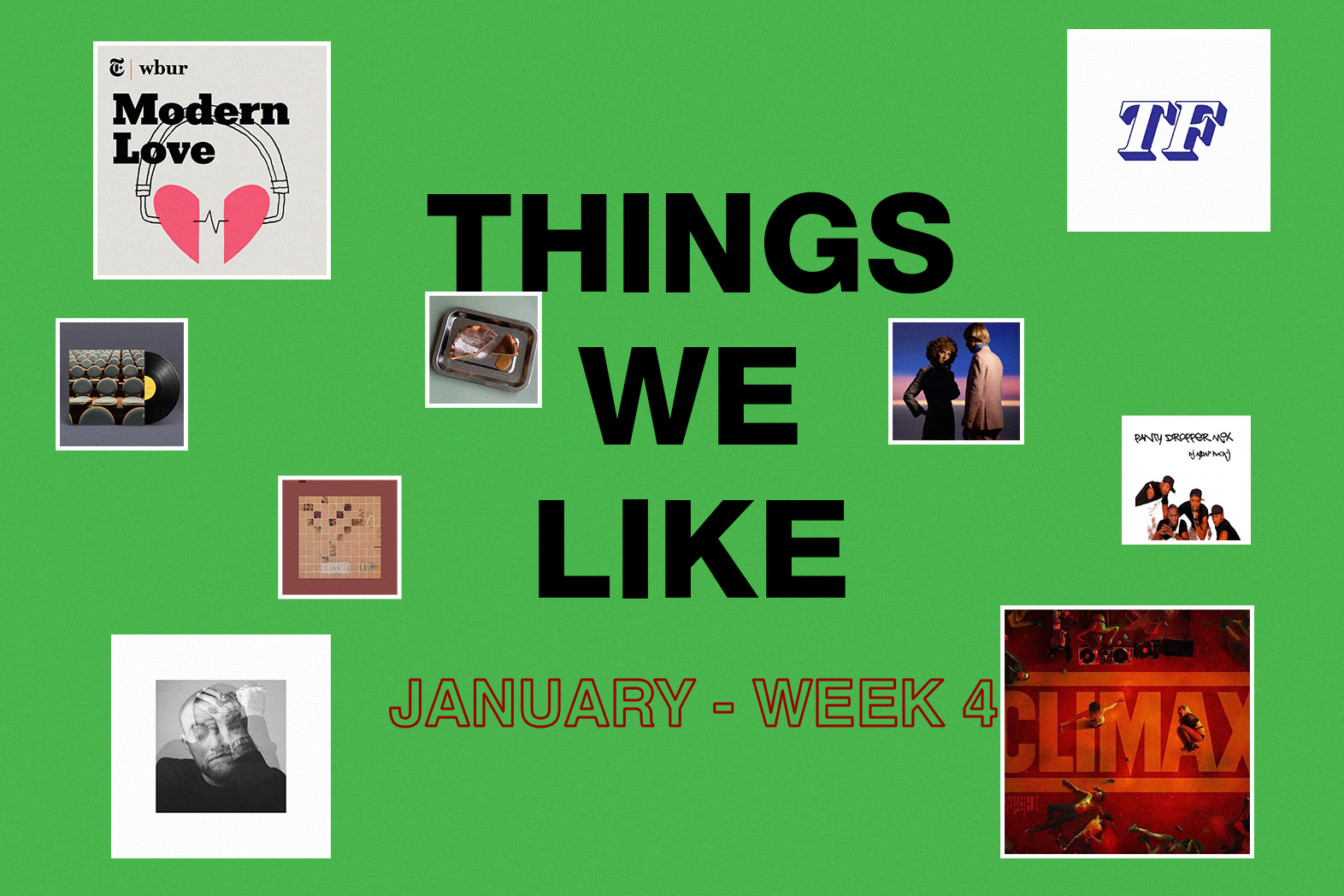 Kembali lagi dengan "Things We Like". Di dalam program ini, kami mengumpulkan hal-hal yang sedang disukai oleh tim Whiteboard Journal berikut alasannya. Dari album "Circles" milik Mac Miller, podcast "Throwing Fits" dan "Modern Love" hingga mixtape penuh love songs, berikut adalah "Things We Like" dari minggu keempat Januari.
KEN JENIE
Editor
What:
The Bad Plus – Activate Infinity
Description:
I wish I had listened to this record in 2019 – would've put it in the favorites category. Enjoy this excellent rendition of "Thrift Store Jewelry" at Newport Jazz Festival, and don't forget to listen to the album.
M. HILMI
Managing Editor
What:
TOUCHE AMORE – BENEDICTION
Description:
Senin ini hari yang absurd. Semua dimulai pagi hari pas bangun lihat berita kalau Kobe Bryant meninggal bersama anaknya di kecelakaan helikopter. Tiba-tiba ngerasa sedih banget, padahal nggak pernah terlalu ngikutin karirnya. Selain kebencian yang menyebar luas di internet, ternyata empati juga menular cepat di sana. Sebagai orang yang suka menenggelamkan diri di kesedihan, hari ini langsung banyak nyetel lagu-lagu pengiris sanubari. Salah satunya adalah "Benediction", lagu dari salah satu album terbaik Touche Amore, "Stage Four". Bercerita tentang kisah ketika sang vokalis kehilangan ibunya karena kanker, album ini sangat personal dan sangat mengiris. Simak potongan lirik di lagu ini, "You left a hole in this earth/And you paid for it up front/I had to fill it with dirt/While your friend sang the song".
FEBRINA ANINDITA
Editorial Staff
What:
Panty Dropper Mix 2 by A$iap Rocky
Description:
A$iap Rocky is Merdi. This mix has been on heavy rotation because I used to work at Brava Radio, thus exposed to love songs and whatnot. So hearing this stuff is very refreshing after listening to tons of leftfield electronic, disco or ambient, etc. It's not a guilty pleasure at all, it's actually very calming, especially for commuting.
Anyway, never been to Blow Jams (weekly program at Zodiac initiated by Merdi himself), but I love THIS Merdi. Follow his Mixcloud as A$iap Rocky for more Panty Dropper mix.
GHINA HANA SABRINA
Editorial Staff
What:
Climax
Description:
Don't want to spoil anything about the movie, but just watch the trailer and figure out the rest.
EMMANUELLA PRIMASTIWI
Editorial Staff
What:
Failing Upwards / Throwing Fits 
Description:
William, this one's for you.
Thanks to big Willy boy, I've been sucked into the chaos that is Lawrence) and James yelling over each other as they try to navigate the male millennial zeitgeist. Awalnya nggak suka karena berisik, kirain just a bunch of white dudes teriak teriak, taunya lama-lama ketawa juga. If you're into clothes, inappropriate semi non-pc jokes and DAT ASSS have a listen. 
My fav episodes from Failing Upwards: Gashi, Mark Anthony Green (Pt. II) and Minya Quirk.
Sayangnya mereka cabut (dipecat) dari Barstool Sports jadi harus rebranding dan ganti nama jadi Throwing Fits. For this one, guest-nya baru satu YAITU, NONE OTHER THAN OG INDIE DADDY Ezra Koenig, so if you're confused you can start from there. 
In exchange for getting me into this podcast, I got Will into BTS. you're welcome. 
CLARISSA AMABEL
Art Director
What:
Mac Miller – Circles
Description:
Listening to Mac Millers's first posthumous record, I feel like peeping into the WIP folder in his brain. There's a lot of mumbling deliberations on life, responsibilities, and complications that come with them.
I don't know much about his personal life and struggles, but "Circles" made me think that Mac was a person who acknowledged his circumstances, admitted to his faults, let us in on his side of truth, but eventually settled on a shrug. The shrug is a fullstop to a sentence that is part resignation, but also part acceptance. Or maybe it's a nihilist shrug. Either way, I feel that shrug, man.
TIANA LONDA
Graphic Design
What:
Modern Love Podcast
Description:
Akhir-akhir ini gue lagi bosen dengerin lagu tiap kali lagi kerja, nah kebetulan banget temen gue ngasih tau podcast ini. Pada hari itu, gue langsung hooked dan ga bisa stop dengerin ini. Tiap episode podcast ini berasal dari essays yang di-publish di column "Modern Love" di New York Times dan dibacakan oleh berbagai macam actors/actresses. Dan ini adalah bagian kesukaan gue dari salah satu episode yang pertama kali gue denger: "know on some level that the biggest way you can protect yourself is by risking your heart over and over again."
AZZAHRA RIZQA
Graphic Design
What:
Tennis – How to Forgive
Description:
Last week, my all time favorite band just released a new single, and as always–they never disappoint. "How to Forgive" is just one of the many extraordinary pieces from Tennis. Their music is essentially a pop genre with a 60s spiritual twist that's totally up my alley.  Also, the song is one thing, but the visualizer on their youtube page is definitely a treat to the eye.
SABRINA FARIZKY
Marketing & Partnerships
What:
Patisserie by Jastine's Lotus Biscoff Burnt Cheesecake
Description:
The first bite was purely magical, it almost felt like you're falling in love, but obviously so much better.
Kombinasi lembut tapi firm, manis tapi gurih, terus ditutup dengan creaminess dari si lotus biscoff sauce-nya, wah ya gila kali lo.