Things We Like: Dari Minggu Pertama Juli
Musik, tv series hingga website yang kami sukai.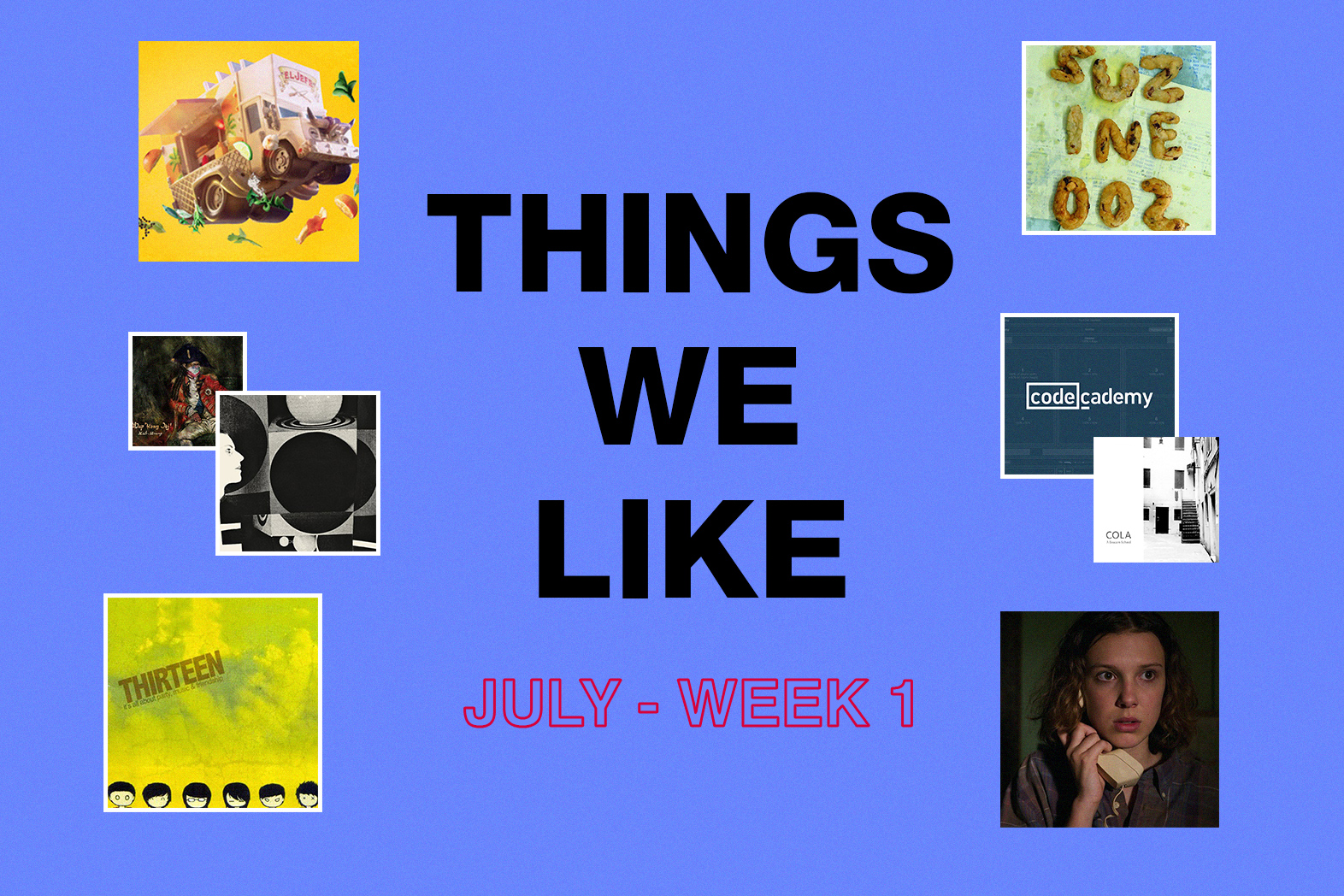 Di dalam program "Things We Like", kami mengumpulkan hal-hal yang sedang disukai oleh tim Whiteboard Journal berikut alasannya. Dari lagu penting yang muncul dari era myspace, season ketiga dari serial tv kesayangan, acara masak dari Jon Favreau, hingga album milik Cathy Lucas, berikut adalah "Things We Like" dari minggu pertama Juli.
M. HILMI
Managing Editor
What:
Thirteen – Cherry Petite Raspberry
Description:
Ini masih basian dari acara "Bukan Emo Night" kemarin jumat sih, tapi kalau didengar lagi, lagu ini masih keren, bahkan kalau dilihat lagi dengan konteks kekinian. Thirteen mungkin bukan band pertama yang mencampurkan metalcore dengan musik elektronik, dan sepertinya mereka bikin band ini karena ter-influence tren di luar yang ketika itu sedang mengarah ke sana. Cuma, yang patut diapresiasi adalah keusilan mereka dalam meramu komposisi lagu ini. Dibuka dengan isian piano Bach yang dicomot sekenanya, langsung banting setir ke metalcore (atau deathcore?) yang menghujam tajam, lalu komando breakdown yang ngehe ("one more time baby"), dan tiba-tiba ada part slow jazz yang nggak ketebak. Canggih! Bahkan Enter Shikari pun tak seliar ini secara komposisi. Jika ada kompilasi lagu penting yang muncul dari era myspace, lagu ini wajib ada di sana. 
FEBRINA ANINDITA
Editorial Staff
What:
"Stranger Things" Season 3
Description:
Nancy is my girl! Di dua season sebelumnya, Nancy nyebelin tapi di sini dia jadi jagoan. Selain itu, terlihat jelas ada character development yang cukup realistis, seperti tumbuh kembang para gerombolan pecinta "Dungeons & Dragons" yang jadi remaja. Season ini jelas menawarkan alur berbeda, fokus karakter juga bukan Eleven melulu. Die hard fans mungkin akan kecewa, tapi kalau lo bisa lihat season ini dari berbagai elemen yang ditawarkan, serial ini terasa 'dewasa' tapi juga all over the place. Kenapa? Ya coba aja nonton sendiri. Yang jelas gue nangis di episode terakhir.
AMELIA VINDY
Editorial Staff
What:
Vanishing Twin – The Age of Immunology Album
Description:
Akhirnya ada kesempatan untuk mendengarkan album ini dengan khusyuk dan sekali lagi Cathy Lucas berhasil membuat gue jatuh hati. Buat gue, saat yang paling tepat untuk mendengarkan album "The Age of Immunology" adalah ketika lo lagi nggak tau mau ngapain dan butuh banget pencerahan, di situlah peran album ini buat gue beberapa minggu terakhir. Yang jelas, Cathy Lucas paham banget gimana ngajak para pendengarnya untuk masuk ke dunianya dia yang kompleks, dengan cara yang nggak ribet!
Fav tracks: Cryonic Suspension May Save Your Life, You Are Not An Island, Planete Sauvage, Invisible World
GHINA HANA SABRINA
Editorial Staff
What:
SUZINE 002
Description:
MY PRIDE AND JOY! Not sorry for the shameless self-promo, but I really am proud of what my dear friends and I have achieved for the newest issue of Suzine 002. Definitely have learned a lot from our first issue and we're going to keep learning from all the amazing people we've met along the way. 
PS. The cover is made from real gorengan paper bags, which unsurprisingly were made out of official government financial documents from Banten. 
EMMANUELLA PRIMASTIWI
Editorial Staff
What:
Codecademy
Description:
Was looking for references for my friend who wanted to learn coding, remembered uni days when I used to count on this bad boi. This is gonna be super f*cking pretentious, but over the weekend I got bored and decided to try learning python lol. Turns out it's not as scary as I made it out in my head, slowly but surely getting the hang of it. It's actually pretty fun, feels nice to challenge yourself every once in a while. Looking forward to finishing the course, might set this as my goal for the rest of the year. On my way to being mrs robot, bitch. 
JANUAR KRISTIANTO
Heart Attack
What:
Nasi Kandar Mohd Yaseen
Description:
Salah satu alasan gue terbang ke KL selain ketemu sobat seni budaya & pang-pangan, nasi kandar hampir ga pernah luput dari checklist kuliner harian gue selama disana. Yep, KL trip selalu berkesan, apalagi kemarin gue berkesempatan nonton INFEST live sekaligus mencicipi suasana skena indies KL di malam hari dengan berpartisipasi dalam event Public Pressure bareng temen gue Siddha & juga temen-temen KL yang suportif dan sangat welcoming ke kita. Best giler.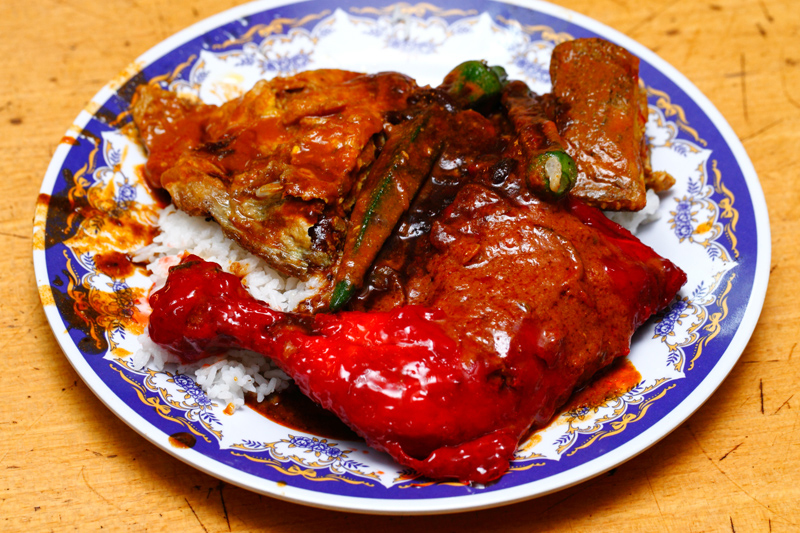 DILA HASAN
Graphic Design
What: 
The Chef Show – Netflix
Description: 
Setelah sekian lama gak mau nonton anything food related karena gue sangat cenderung latah orangnya alias bisa aja dompet dan berat badan gue yang jadi korban (padahal juga udah). ANYWAAAY…pembawaan acara ini sangat ringan dan seru, ada 2 jenis makanan tiap episodenya. Highlight acara ini untuk gue adalah Roy Choi the one and only master of food truck, he makes cooking seems sooooo easy.
TIANA OLIVIA
Graphic Design
What: 
It's Late – A Beacon School 
Description: 
Sebenarnya sudah tahu lagu ini sejak lama. Dulu randomly nemuin lagu ini dari up-next list-nya YouTube, tapi recently baru mulai dengerin lagi. I would listen to this song whenever I feel stressed out or a bit panicky. For me, this song is soooo soothing, cocok untuk hari-hari hectic.
SABRINA FARIZKY
Marketing & Sales
What: 
"Wap Konn Jòj!" – Mach-Hommy 
Description: 
Definitely one of the best albums from the first half of 2019, and for me, "Simbi" in particular is a brilliant closing for such a beautifully produced album.