Things We Like: Local Businesses We Support
Kumpulan bisnis lokal yang dijumpai selama work from home.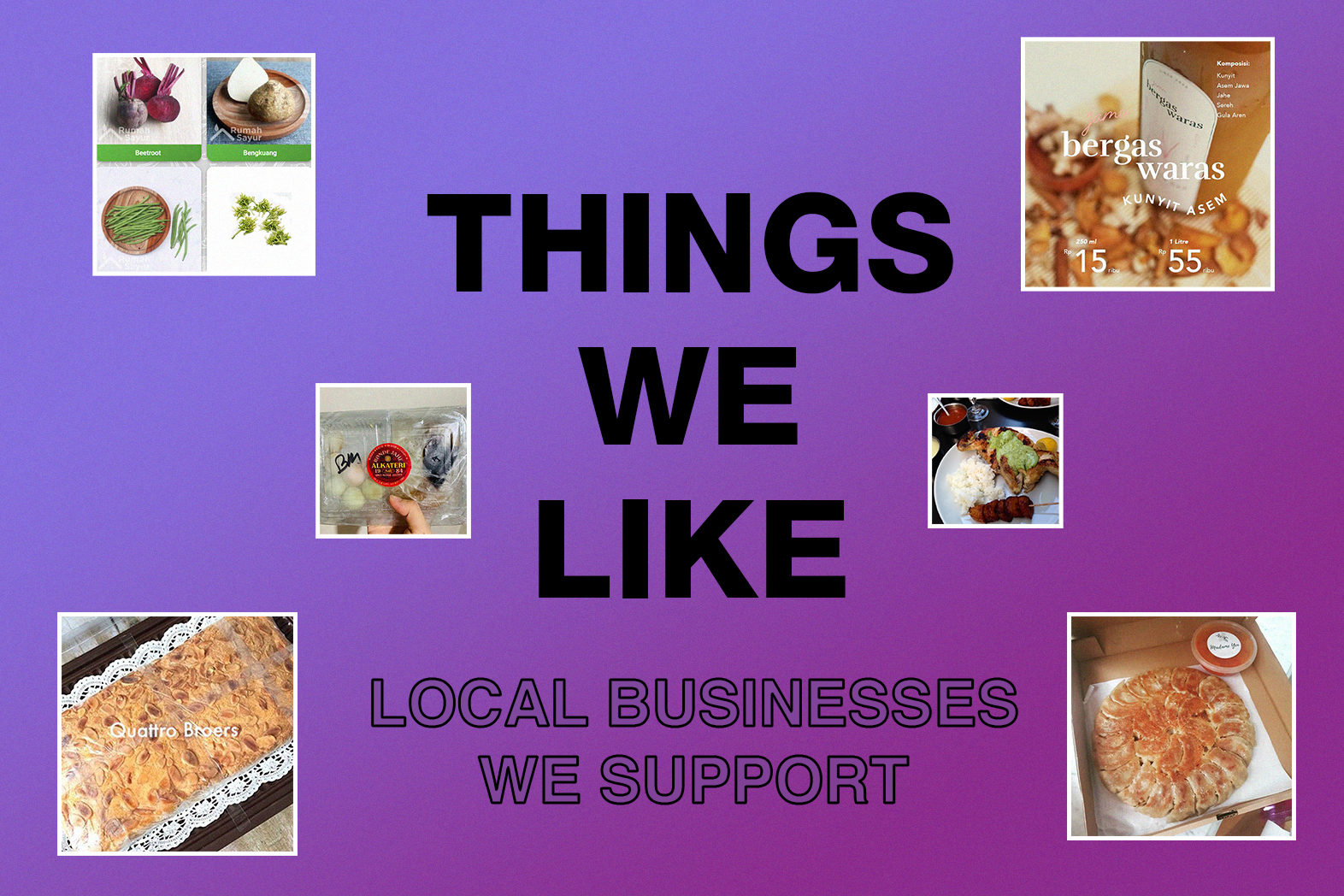 "Things We Like" kali ini merupakan edisi khusus. Salah satu aktivitas yang kini kerap dilakukan oleh banyak orang saat #WFromHome adalah antara mengirimkan makanan maupun menerima makanan dari bisnis lokal. Oleh karena itu, kami mengumpulkan sederet local businesses penjual makanan yang dijumpai selama work from home. Dari Quattro Broers, Ronde Jahe Alkateri, hingga Rumah Sayur, berikut adalah beberapa pilihan kami.
FEBRINA ANINDITA
Editorial Staff
What:
Quattro Broers
Description:
Ada banyak local biz mantep yang dicoba selama karantina. Tapi Quattro Broers jadi pilihan. Pertama karena gw belum pernah coba budapest cake – dengar jenis kue ini aja belum pernah. Pas terima, agak bingung sama bentuknya. Tapi pas dicoba, hacep banget! Isinya tuh cream cheese & ada jeruknya? Rasanya manis tapi mild dan segar. Enak banget! Pas coba potongan pertama tuh cuma chilled di kulkas, terus penasaran kalau dimasukin freezer bakal jadi ice cream cake nggak ya. Pas dicoma semi beku gitu makin hacep! 
Underrated banget nih. Semua harus coba. Posisinya juga minor di Utan Kayu tapi enak banget! Makasih Bram udah kirimin. Love!
EMMA PRIMASTIWI
Editorial Staff
What:
La.Par.id
Description:
Shameless self promo bro. Ayam afrika like in O'scia enak BANGET cepetan beli thanks.
CLARISSA AMABEL
Art Director
What:
Ronde Jahe Alkateri
Description:
Dari semua local business yang sempet gue coba selama WFH, ini salah satu yang gue support dengan segenap hati nurani, dan gue sangat prihatin kalau-kalau mereka sampe gak survive the season. Ronde jahe has always been near and dear to my heart, and no ronde in Jakarta ever comes close to the brilliance of Bandung's colorful, glutinous rice balls (sorry). 
Jadi bagi yang gak se-passionate itu tentang ronde, singkat cerita ada 2 brand OG di Bandung: Ronde Jahe Alkateri, dan Ronde Jahe Gardujati. Honestly I think they're both great, tapi kebetulan one of my good friends know the second-generation owner of Alkateri. Lalu karena gue bujuk/maksa terus, akhirnya gue bisa mendapatkan kiriman 10 porsi ronde frozen dari Bandung ke Kelapa Gading! 
https://www.zomato.com/bandung/ronde-jahe-alkateri-andir
SABRINA FARIZKY
Marketing & Partnerships
What:
Rumah Sayur
Description:
Sejak awal PSBB, gue dan keluarga jadi mengurangi sekali frekuensi belanja langsung ke supermarket, jadi kehadiran beberapa platform-platform yang jual sayur segar ini sangat membantu kami.
Awalnya nemu Rumah Sayur ini dari salah satu thread twitter tentang opsi penjual online sayuran dan buah segar, terus habis pertama dicoba ternyata memuaskan banget, ga cuma produknya yang memang fresh, pilihan sayurnya cukup lengkap, harganya oke, interface website-nya ga ribet, pembayaran bisa tinggal scan GoPay, dan produk bisa langsung dikirim H+1 (even on weekends!!)
https://store.rumahsayur.com/products
MAR GALO
Bamboo Twist
What:
Madame Yen Vegan
Description:
Their vegan gyoza is spot-on. The fillings consist of mushroom and vegetables. Though they add soy protein, you can ask to have it without which I did since I'm allergic. The skin has a thicker consistency resembling kuo tie with a nice crust. Usually, you have to pan fry slightly to get more crunchiness which I haven't done since it was too tempting to not eat on-the-spot. The sauce is a combination of spicy and a tad of sweetness. This is the best vegan gyoza I've had so far. It's a home business so to order, you have to contact them via WA or Insta @madameyen.vegan
ADYTHIA UTAMA
Videographer
What:
Jamu Bergas Waras
Description:
Sudah 3 bulan kita #dirumahaja. Hmmm melakukan #WorkFromHome tentunya kudu #WarasFromHome juga sih. Makanya tiap minggu saya minum Jamu autentik yang bikin waras yakni Jamu Bergas Waras. Bedanya sih jamu bergas waras ini teksturnya lebih berisi dibanding jamu lainnya. Duh kerja jadi makin enak deh, ada temulawak, ada kunyit asem juga hehehehe. Katanya sih pengiriman tiap hari selasa dan available di Tokopedia.
Ps. Jamu ini tidak ada hubungannya dengan DJ yang namanya kebetulan sama.