88rising dan Coachella Tawarkan berbagai Fasilitas di Festival lewat NFT "Head In The Clouds Forever"
Coachella dan 88rising berkolaborasi merilis koleksi NFT "Head In The Clouds Forever".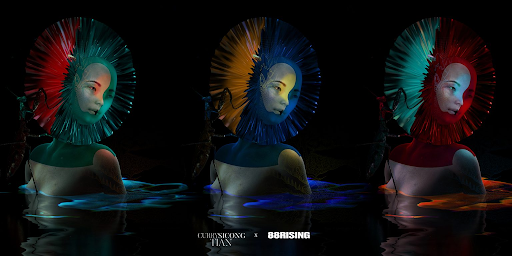 Teks: Jesslyn Sukamto
Foto: Curry Tian
Coachella bekerja sama dengan 88rising yang berbasis di Asia untuk merilis set NFT pertama mereka bersama dengan seniman visual multidisiplin Curry Tian.
"Koleksi ini merupakan pernyataan visual surealis dari optimisme abadi, dualitas, dan keyakinan pada kekuatan yang tak terbatas dari budaya musik Asia Heads In The Clouds," kata Tian. 
Kolaborasi ini hadir sebagai bagian dari upaya festival yang berbasis di California, Coachella, untuk mempertahankan lebih banyak cara agar penggemar terus menunjukkan dukungan mereka dan terhubung dengan musisi favorit mereka.
Join us at 5pm PST to chat about the @88rising x @coachella NFT collaboration with artist @currysicongtian, @premland, @sam__schoonover & more
https://t.co/onBq4TP1O6

— Coachella (@coachella) April 7, 2022
Selain akan berkontribusi ke Institut Kesehatan Mental Asia dalam bentuk donasi, para pemegang koleksi NFT tersebut juga akan dipersembahkan dengan manfaat-manfaat khusus. Fasilitasnya termasuk jalur masuk khusus di Coachella, pertemuan di tempat, early access untuk acara musik mendatang, tiket ke festival Heads In The Clouds, pengalaman VIP eksklusif, early access untuk merchandise, notifikasi peluncuran NFT mendatang, dan banyak lagi.
Announcing @Coachella and @88rising Head In The Clouds Forever collaboration 🤝 with artwork by Chinese multidisciplinary artist @currysicongtian. pic.twitter.com/mnV9rY5gUB

— 88rising (@88rising) April 7, 2022
Rangkaian NFT ini hanyalah awal dari deretan kolaborasi yang Coachella dan 88rising tawarkan untuk kedepannya. Para penggemar bisa ikut lelang untuk seri yang didambakan ini selama satu hari saja, pada 12 April, jam 9 PST di sini.
Kolaborasi dengan 88rising merupakan kelanjutan dari pasar NFT ramah lingkungan milik 
Coachella yang dibangun oleh FTX US menggunakan Solana dan Metaplex.
Jika penggemar yang tertarik gagal mengajukan penawaran, 88rising juga mengundang semua pengunjung festival untuk berpartisipasi dalam pencetakan NFT melalui aktivitas scavenger hunt yang belum pernah dilakukan sebelumnya sebagai kesempatan lain untuk mendapatkan karya seni rahasia kolektif. 
Detail lebih lanjut tersedia di sini, di saluran Discord 88rising.
Persiapkan diri kalian untuk para artis-artis dari 88rising dan panggung Coachella dengan menonton throwback ke HEAD IN THE CLOUDS 2021 mereka di bawah ini: