Lukisan "Morons" Karya Banksy Dibakar Dan Dijadikan Menjadi NFT Oleh Crypto Fans
Karya seni ini dijadikan digital dengan kode blockchain.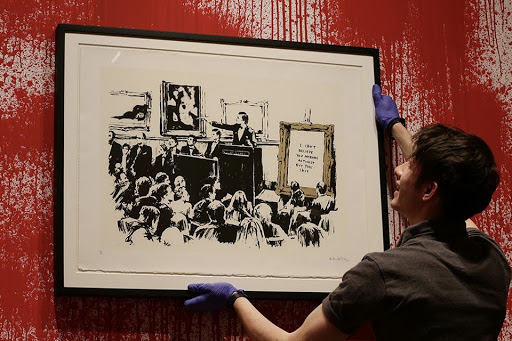 Teks: Rifqi Ramadhan
Foto: Hypebeast /Morons
Artwork karya seniman grafiti Banksy dibakar dan dipindahkan secara digital menjadi sebuah NFT (Non-Fungible Tokens) oleh sebuah kelompok yang menyebut diri mereka sebagai crypto fans.
Karya yang dibakar oleh kelompok ini sendiri adalah sebuah lukisan yang diberi judul "Morons". Lukisan ini sendiri melupakan sebuah lukisan satir yang mengenai hebohnya penjualan lukisan Van Gogh yang berjudul "Sunflower". Lukisan ini sendiri berisi dengan gaya khas Banksy yang memberi sindiran sarkas kepada masyarakat dana dalam lukisan ini tertulis, "I can't believe you morons actually buy this sh*t." 
Lukisan ini sendiri kini sudah memiliki harga hingga $95,000, dan aslinya dibeli dari galeri Taglialatela. Akan tetapi kini, belum diketahui berapa harga karya Banksy yang satu ini. Sebelum lukisan karya Banksy ini dihancurkan, para crypto fans dari seniman ini berkata bahwa mereka sudah menjadikan karya seni ini tersedia secara digital. 
"We view this burning event as an expression of art itself. We are generating a new form of artwork via the creation of this unique NFT that is a direct representation of the physical.", ucap salah satu anggota dari crypto fans ini.
Karya yang kini tersedia secara digital ini sendiri nantinya  akan dilelang secara virtual dan segala keuntungan yang didapatkan dari karya seni ini nantinya akan disumbangkan kepada sebuah lembaga amal.