'Future Wake': AI yang Memprediksi Kebrutalan Polisi Selanjutnya
"Future Wake is an art project that intends to stir discussions around predictive policing and police-related fatal encounters," tulis mereka di situs web resmi Future Wake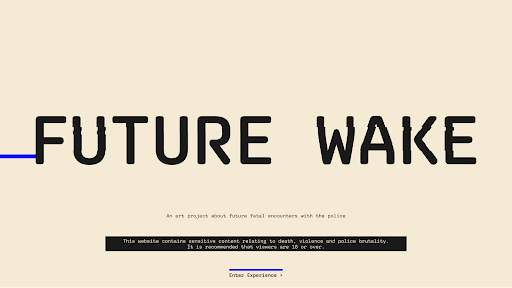 Teks: Nancy Rumagit
Foto: Future Wake
Future Wake adalah sebuah proyek seni interactive website yang dibuat oleh Oz dan Tim dan telah memenangkan Mozilla 2021 Creative Media Award. Situs web ini menampilkan lima prediksi korban kebrutalan polisi selanjutnya di lima kota terbesar di Amerika Serikat (Chicago, Houston, Los Angeles, New York, dan Phoenix) dengan kisah mereka masing-masing menggunakan teknologi deepfake (model First-Order).
Saat membuka situs web Future Wake, hal pertama yang ditunjukan adalah sebuah warning. Tim mengatakan bahwa warning ini dimaksudkan untuk memberikan peringatan kepada orang-orang yang telah mengalami kebrutalan polisi sebelum mereka mengakses situs web tersebut. Setelah itu, situs ini akan menunjukan lima wajah prediksi korban dengan sebuah countdown di bawah masing-masing video hingga momen tragedi ini akan terjadi. "We want to say that this person is going to die at this specific moment. The clock is supposed to generate a sense of urgency," ujar Oz. Salah satu kasus kebrutalan polisi telah diprediksikan untuk terjadi pada tanggal 16 Desember 2021 di Phoenix pukul 14:12:19.
"I am being chased by armed people outside a grocery store. I am eventually stopped by the cops. While the officer will try to handcuff me and I will run away with my hands in the air. The officer will shoot and kill me," ujar korban di Phoenix.
Tentu saja, tragedi ini tidak sebetulnya terjadi. Di bawah pertanyaan di situs mereka, "Is this real?" mereka menjawab, "In short, no," meskipun Future Wake tetap membuat proyek ini dengan mengumpulkan data dari Fatal Encounters dan Mapping Police Violence untuk membuat prediksi-prediksi ini seakurat mungkin. "Though the predicted wakes are not real, someone like them could very realistically be the next victim," ujar mereka.
Mereka mengatakan bahwa Future Wake dibangun dari rasa empati. Mereka merasa bahwa orang-orang tidak dapat merasakan empati yang sebetulnya dengan hanya melihat data dan statistik. Future Wake ditujukan untuk memulai pembicaraan tentang kebrutalan polisi dengan memberikan prediksi-prediksi ini dan juga memberikan tiap korban kisah mereka sendiri, sehingga ketika menonton salah satu video Future Wake, Oz mengatakan ia berharap orang-orang dapat bertanya, "How can we protect this person from being a future victim?"