Things We Like: Dari Minggu Kedua September
Film, buku hingga majalah yang kami sukai.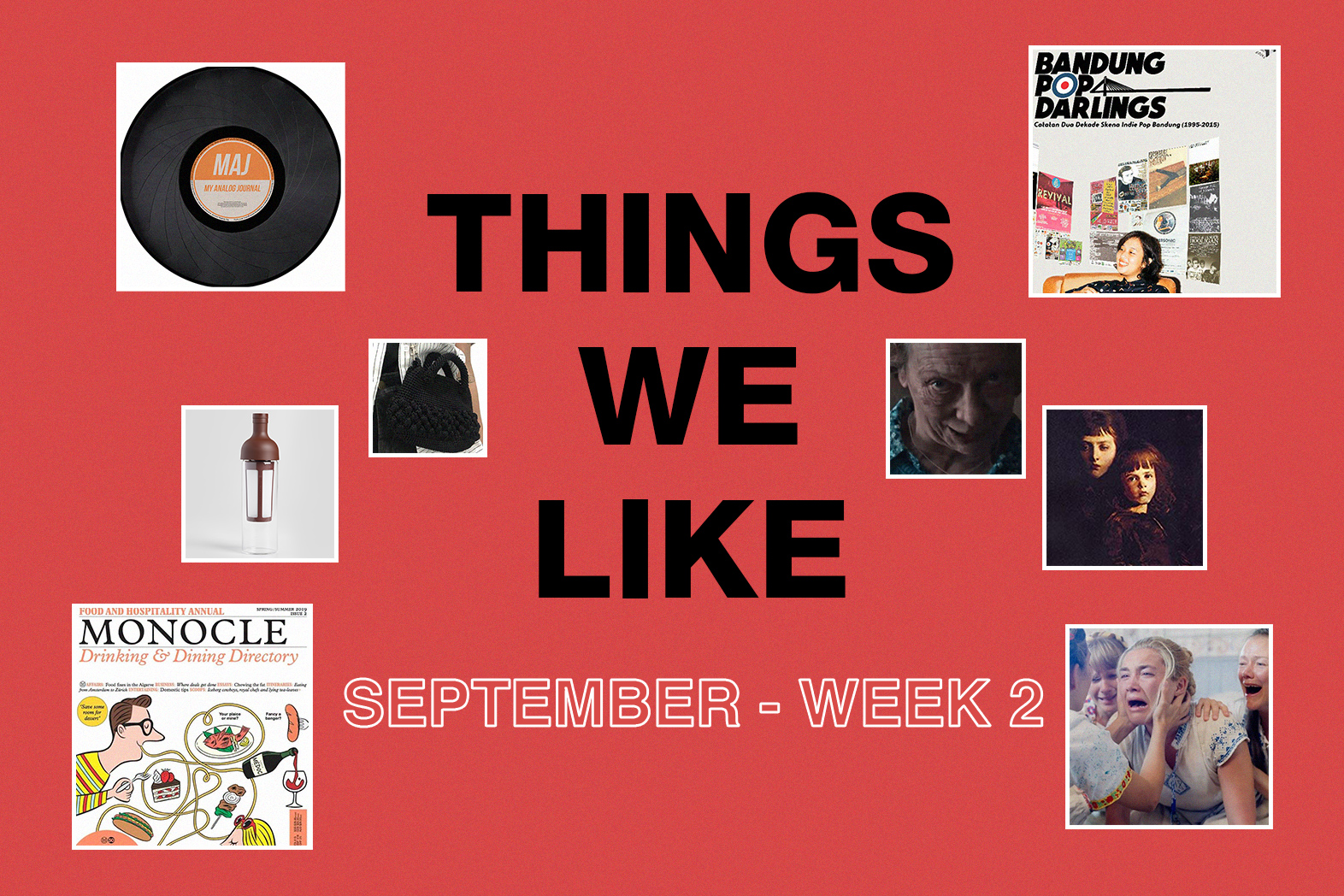 Di dalam program "Things We Like", kami mengumpulkan hal-hal yang sedang disukai oleh tim Whiteboard Journal berikut alasannya. Dari film serta tv series horror terbaru, buku tentang perjalanan indie pop di Bandung, channel YouTube "My Analog Journal" hingga directory lengkap dari Monocle, berikut adalah "Things We Like" dari minggu kedua September.
M. HILMI
Managing Editor
What:
Bandung Pop Darlings
Description:
Belakangan banyak buku musik terbit, beberapa di antaranya adalah karya Idhar tentang Pure Saturday, juga tentang jurnalisme musik, ada pula karya Nuran tentang musik rock. Dan tampaknya, respon terhadap buku tipe ini baik. Ini jelas tren positif yang perlu dirayakan. Salah satu cara merayakannya adalah dengan membaca terbitan-terbitan yang ada. 
Salah satu yang menarik adalah buku "Bandung Pop Darlings" terbitan EA books ini. Merekam perjalanan indie pop Bandung selama satu dekade, buku ini jelas menarik bagi anak daerah yang sempat menjadikan Bandung sebagai kiblat. Awalnya agak pesimis bisa menikmati buku tebal dengan banyak catatan kaki ini, tapi ketika membaca ternyata penuturan Irfan – sang penulis – ringan dan menyenangkan. Hampir sama seperti mendengar temen tongkrongan bercerita tentang gilang-gemilang tongkrongannya dulu. Beberapa agak membingungkan secara runtutan, tapi selalu menyenangkan membaca insight dari band dan sosok yang kita kagumi. Sekarang masih baca seperempat, tapi ingin segera menuntaskannya segera.
Dapatkan buku ini di sini.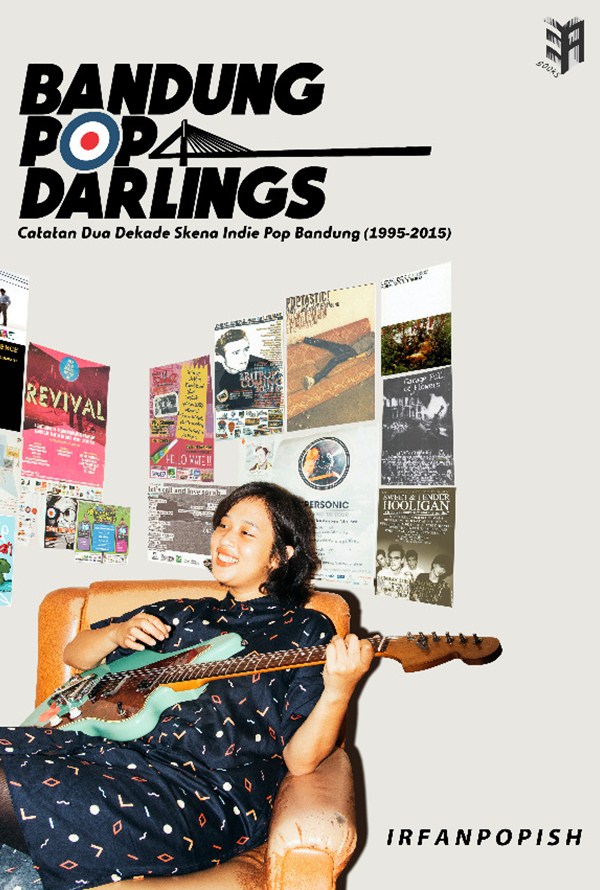 FEBRINA ANINDITA
Editorial Staff
What:
Midsommar
Description:
Baru nonton hari Sabtu kemarin. Trauma di bagian Dani nangis histeris sama cewek-cewek abis lihat pacarnya nganu. Tapi selain itu, di awal film pas Dani histeris telepon pacarnya itu gue shock sih macam "Antichrist". Scoring-nya keren banget, gue lebih dulu dengar musik daripada nonton, jadi sekarang pas dengar lagi, semakin amazed karena kebayang adegan. Nonton yang disensor aja pusing, gimana nonton yang director's cut ya.
Ari Aster sakit sih. Jangan nonton sendiri ya.
GHINA HANA SABRINA
Editorial Staff
What:
Hario Filter-In Cold Brew Coffee Bottle
Description:
Not gonna lie, but I bought this bottle mostly because it was very nice looking and stood out amongst other coffee-related accessories. Since then, I haven't stopped using it to fulfill my daily caffeine intake. You see, since I've been eating and drinking a lot of things that are unfriendly to the stomach (hello gastritis), I try to avoid drinking really strong coffee and cold brew really is the answer. It's smooth and less bitter due to the different steeping method than iced coffee, it also has more flavor as it tends to taste slightly sweeter. Also, it's refreshing AF and best served with ice cubes. A drink for especially for hot weather.
Another plus point, you don't have to spend money to buy coffee everyday!
EMMANUELLA PRIMASTIWI
Editorial Staff
What:
My Analog Journal – Coffee Break Sessions (CBS)
Description:
Konten lainnya rada pretentious tapi lagunya enak-enak. Banyak Japanese city pop & jazz, Turkish music and some Habibi Funk juga. Kebetulan this weekend gue sibuk beres-beres karena lagi redecorate kamar, this played seamlessly in the background. Enak buat background beres-beres, kerja or even foo-foo-foo adult dinner parties. 
DILA F. HASAN
Graphic Designer
What:
The Haunting of Bly Manor A.K.A The Haunting of Hill House 2
Description:
Yak! Seperti yang kalian tau, gue emang suka dengerin podcast/nonton yang mistis-mistis dan akhirnya salah satu tv series horror kesukaan orang-orang dari Netflix ini akan mengeluarkan season 2-nya. Bukan sambungan cerita sih, katanya konsep tv series ini akan jadi kayak "American Horror Story". Tiap season aktornya akan tetap sama tapi dengan peranan dan cerita yang berbeda. Cerita season 2 ini diadaptasi dari buku Henry James yang berjudul "The Turn of The Screw" (Fun fact: ternyata udah pernah dibikin some kind of telenovela di tahun 1992). Season 2 akan tayang di Netflix tahun depan, semoga pembawaannya masih mencekam dengan detail-detail di tiap scene-nya kayak "The Hill House".  
TIANA LONDA
Graphic Designer
What:
Crochet bag
Description:
Soooo this is a crochet bag that my mom made for me! Waktu itu gue lagi scrolling di ig terus nemu online shop yang jual tas-tas crochet, but then I remembered that my mom is into crochet, jadi gue minta deh ke nyokap untuk dibikinin. 
SABRINA FARIZKY
Marketing & Sales
What:
Monocle Drinking & Dining Directory 2019
Description:
Edisi-edisi spesial tahunan dari Monocle selalu menarik untuk disimak meskipun jadi bikin BM buat liburan, dan "Drinking & Dining Directory" untuk Spring/Summer 2019 ini pun demikian.
Dari semua konten dalam edisi ini, yang menurut gue paling menarik perhatian adalah artikel "Come On Over," di mana mereka mendatangi rumah tiga sosok – jurnalis dari Stockholm, editor dari New York, dan seorang chef dari Sydney – dan berbincang sambil dibuatkan masakan keunggulan masing-masing figur. Selain itu, ada juga interview dengan Masayuki Kusumi, penulis seri manga "孤独のグルメ" di mana mereka membahas kultur review dan rekomendasi restoran di era sekarang.
Satu hal yang gue paling suka dari Monocle adalah, meskipun dicekokin dengan info dan visual yang sangat padat, tapi pembaca ga sampai merasa overwhelmed dengan konten majalah mereka. Kadang sering kebayang, editor-editor Monocle lembur setiap hari apa gimana ya?
MAR GALO
Bamboo Twist
What:
Marianne on Netflix
Description:
Despite some plot holes, this series has some good, original scare. Reminds me of "The Haunting of Hill House". It's very effective in building up tensions with slow camera works and that "Paranormal Activity" horizontal back and forth technique. Clever editing, good acting, and perfect locations. Thoroughly spooked out by mid-episodes. I'd watch it during the day since it's about nightmares.